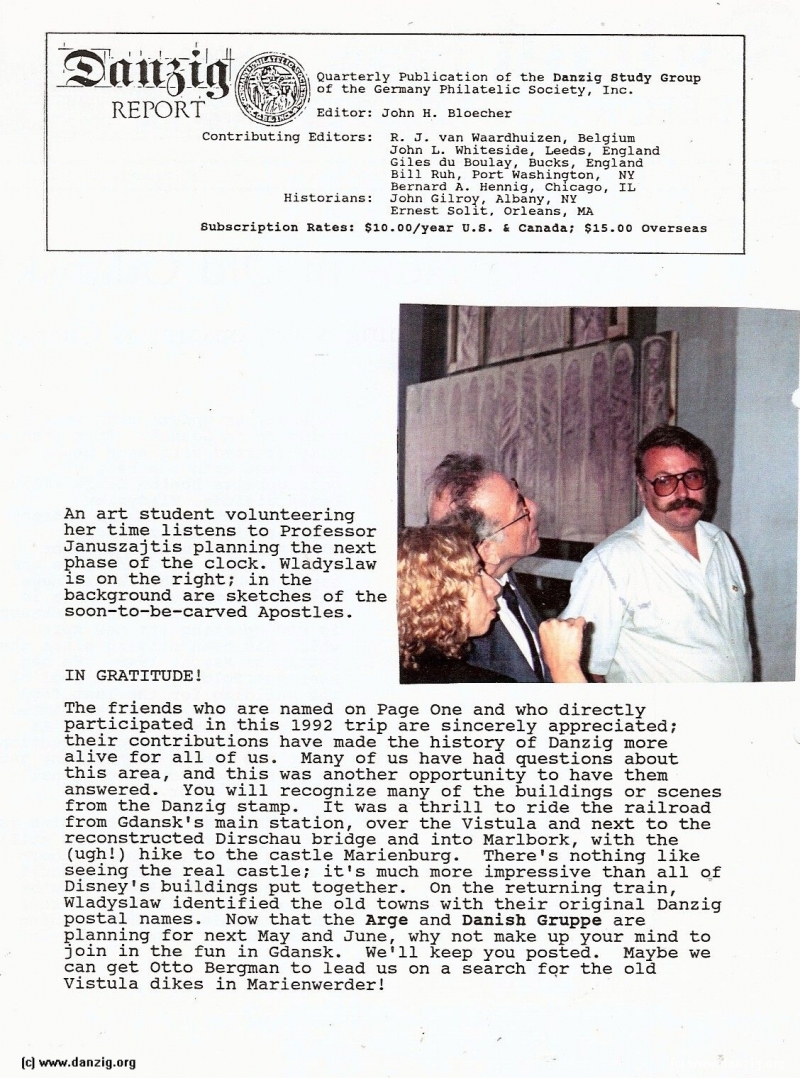 >> What's new in old Gdansk

An art student volunteering her time listens to Professor Januszajtis planning the next phase of the clock. Wiadyslaw is on the right; in the background are sketches of the soon—to—be—carved Apostles.

IN GRATITUDE!
The friends who are named on Page One and who directly participated in this 1992 trip are sincerely appreciated; their contributions have made the history of Danzig more alive for all of us. Many of us have had questions about this area, and this was another opportunity to have them answered. You will recognize many of the buildings or scenes from the Danzig stamp. It was a thrill to ride the railroad from Gdansk's main station, over the Vistula and next to the reconstructed Dirschau bridge and into Malbork, with the (ugh!) hike to the castle Marienburg. There's nothing like seeing the real castle; it's much more impressive than all of Disney's buildings put together. On the returning train, Wiadyslaw identified the old towns with their original Danzig postal names. Now that the Arge and Danish Gruppe are planning for next May and June, why not make up your mind to join in the fun in Gdansk. We'll keep you posted. Maybe we can get Otto Bergman to lead us on a search for the old Vistula dikes in Marienwerder!



Danzig Report Nr. 76 - 3rd Quarter 1992, Page 2.
Hits: 1422

Added: 02/07/2015
Copyright: 2023 Danzig.org