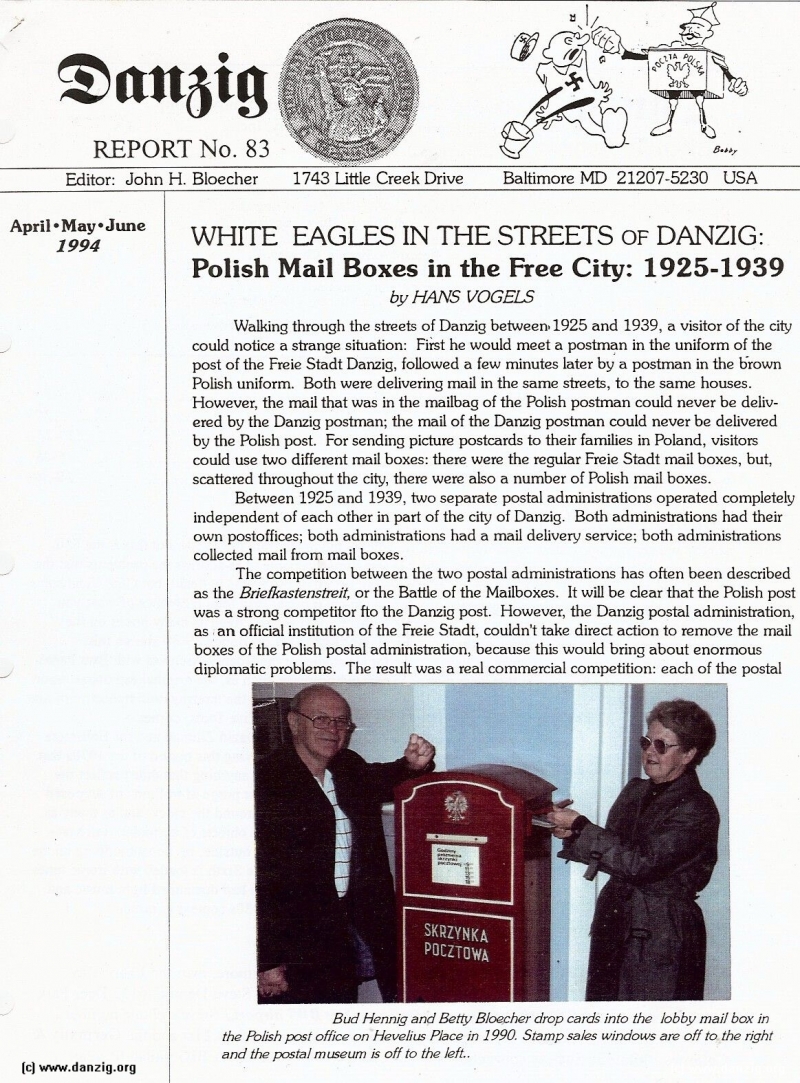 DANZIG REPORT

Editor: John H. Bloecher, 1743 Little Creek Drive, Baltimore, MD. 21207-5230 USA

WHITE EAGLES IN THE STREETS OF DANZIG:
Polish Mail Boxes in the Free City: 1925-1939
by HANS VOGELS


Walking through the streets of Danzig between' 1925 and 1939, a visitor of the city could notice a strange situation: First he would meet a postman in the uniform of the post of the Freie Stadt Danzig, followed a few minutes later by a postman in the brown Polish uniform. Both were delivering mail in the same streets, to the same houses. However, the mail that was in the mailbag of the Polish postman could never be delive red by the Danzig postman; the mail of the Danzig postman could never be delivered by the Polish post. For sending picture postcards to their families in Poland, visitors could use two different mail boxes: there were the regular Freie Stadt mail boxes, but, scattered throughout the city, there were also a number of Polish mail boxes.

Between 1925 and 1939, two separate postal administrations operated completely independent of each other in part of the city of Danzig. Both administrations had their own postoffices; both administrations had a mail delivery service; both administrations collected mail from mail boxes.

The competition between the two postal administrations has often been described as the Brielkastenstreit, or the Battle of the Mailboxes. It will be clear that the Polish post
was a strong competitor fto the Danzig post. However, the Danzig postal administration, as an official institution of the Freie Stadt, couldn't take direct action to remove the mail boxes of the Polish postal administration, because this would bring about enormous diplomatic problems. The result was a real commercial competition: each of the postal

Bud Hennig and Betty Bloecher drop cards into the lobby mail box in the Polish post office on He veil us Place in 1990. Stamp sales windows are off to the right and the postal museum is off to the left.




Danzig Report  - Nr. 83 - April - May - June - 1994, Page 1.
Hits: 1618

Added: 07/07/2015
Copyright: 2023 Danzig.org