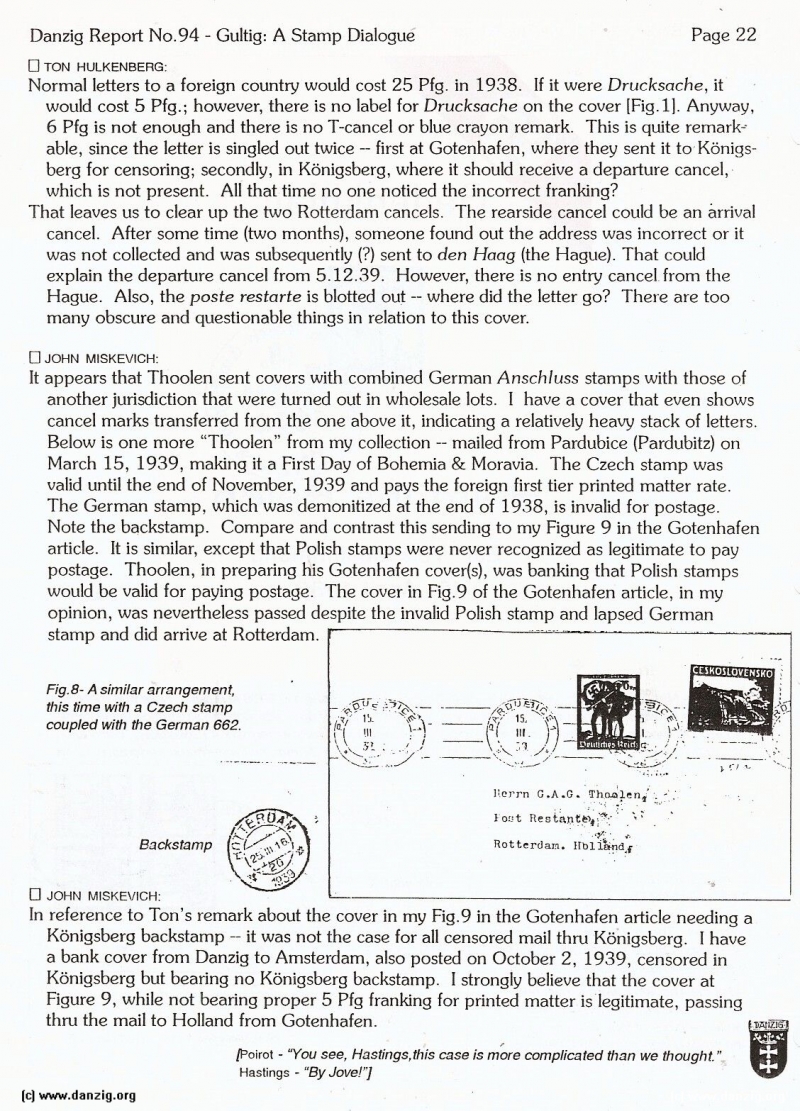 TON HULKENBERG:

Normal letters to a foreign country would cost 25 Pfg. in 1938. If it were Drucksache, it would cost 5 Pfg.; however, there is no label for Drucksache on the cover [Fig. 11. Anyway, 6 Pfg is not enough and there is no T-cancel or blue crayon remark. This is quite remark-' able, since the letter is singled out twice — first at Gotenhafen, where they sent it to Konigsb erg for censoring; secondly, in Konigsberg, where it should receive a departure cancel, which is not present. All that time no one noticed the incorrect franking?

That leaves us to clear up the two Rotterdam cancels. The rearside cancel could be an arrival cancel. After some time (two months), someone found out the address was incorrect or it was not collected and was subsequently (?) sent to den Haag (the Hague). That could explain the departure cancel from 5.12.39. However, there is no entry cancel from the Hague. Also, the poste restarte is blotted out -- where did the letter go? There are too many obscure and questionable things in relation to this cover.

JOHN MISKEVICH:
It appears that Thoolen sent covers with combined German Anschiuss stamps with those of another jurisdiction that were turned out in wholesale lots. I have a cover that even shows cancel marks transferred from the one above it, indicating a relatively heavy stack of letters. Below is one more "Thoolen" from my collection -- mailed from Pardubice (Pardubitz) on March 15, 1939, making it a First Day of Bohemia & Moravia. The Czech stamp was valid until the end of November, 1939 and pays the foreign first tier printed matter rate. The German stamp, which was demonitized at the end of 1938, is invalid for postage. Note the backstamp. Compare and contrast this sending to my Figure 9 in the Gotenhafen article. It is similar, except that Polish stamps were never recognized as legitimate to pay postage. Thoolen, in preparing his Gotenhafen cover(s), was banking that Polish stamps would be valid for paying postage. The cover in Fig.9 of the Gotenhafen article, in my opinion, was nevertheless passed despite the invalid Polish stamp and lapsed German stamp and did arrive at Rotterdam. --

Fig. 8- A similar arrangement, this time with a Czech stamp coupled with the German 662.

JOHN MISKEVICH:
In reference to Ton's remark about the cover in my Fig.9 in the Gotenhafen article needing a Konigsberg backstamp -- it was not the case for all censored mail thai Konigsberg. I have a bank cover from Danzig to Amsterdam, also posted on October 2, 1939, censored in Konigsberg but bearing no Konigsberg backstamp. I strongly believe that the cover at Figure 9, while not bearing proper 5 Pfg franking for printed matter is legitimate, passing thai the mail to Holland from Gotenhafen.



Danzig Report Vol. 1 - Nr. 94 - January - February - March - 1997, Page 22.
Hits: 1151

Added: 19/07/2015
Copyright: 2023 Danzig.org