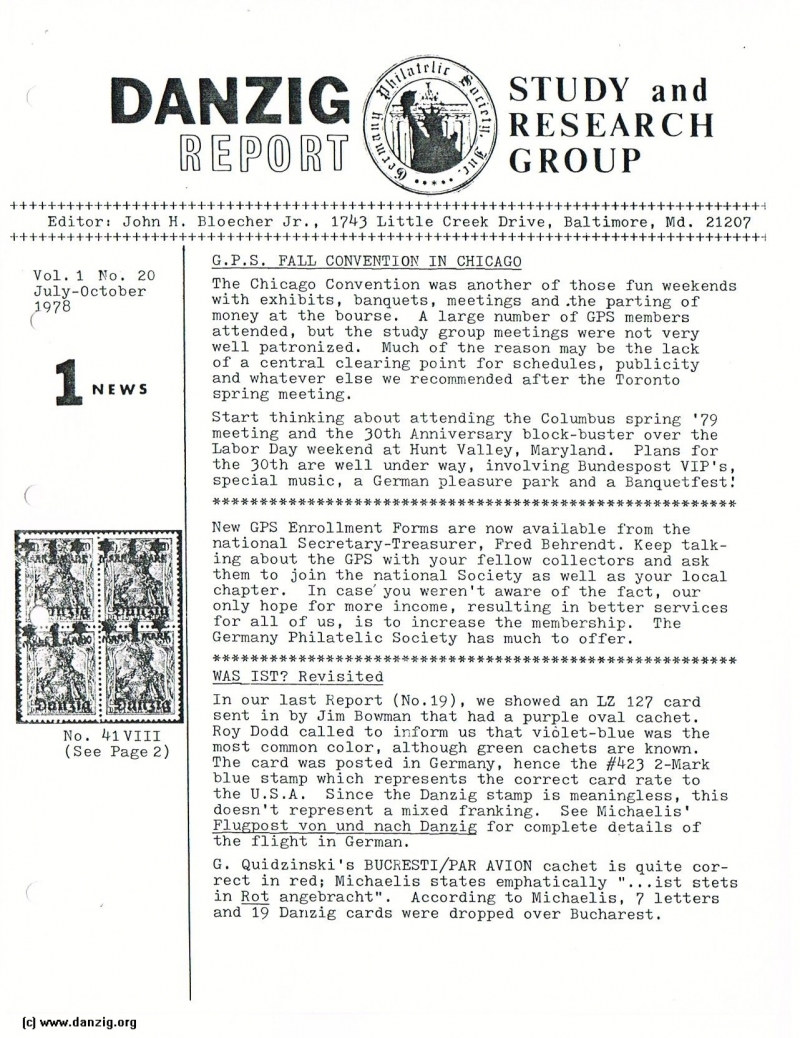 Danzig Report No. 20. 

DANZIG REPORT STUDY and RESEARCH GROUP

Editor: John H. Bloecher Jr., 1743 Little Creek Drive, Baltimore, Md. 21207

G.P.S. FALL CONVENTION IN CHICAGO
The Chicago Convention was another of those fun weekends with exhibits, banquets, meetings and .the parting of money at the bourse. A large number of GPS members attended, but the study group meetings were not very well patronized. Much of the reason may be the lack of a central clearing point for schedules, publicity and whatever else we recommended after the Toronto spring meeting.

Start thinking about attending the Columbus spring '79 meeting and the 30th Anniversary block-buster over the Labor Day weekend at Hunt Valley, Maryland. Plans for the 30th are well under way, involving Bundespost VIP's, special music, a German pleasure park and a Banquetfest.

New GPS Enrollment Forms are now available from the national Secretary-Treasurer, Fred Behrendt. Keep talking about the GPS with your fellow collectors and ask them to join the national Society as well as your local chapter. In case' you weren't aware of the fact, our only hope for more income, resulting in better services for all of us, is to increase the membership. The Germany Philatelic Society has much to offer.

WAS IST? Revisited
In our last Report (No.19), we showed an LZ 127 card sent in by Jim Bowman that had a purple oval cachet. Roy Dodd called to inform us that violet-blue was the most common color, although green cachets are known. The card was posted in Germany, hence the #423 2-Mark blue stamp which represents the correct card rate to the U.S.A. Since the Danzig stamp is meaningless, this doesn't represent a mixed franking. See Michaelis' Flugpost von und nach Danzig for complete details of the flight in German.

G. Quidzinski's BUCRESTI/PAR AVION cachet is quite correct in red; Michaelis states emphatically "...ist stets in Rot angebracht". According to Michaelis, 7 letters and 19 Danzig cards were dropped over Bucharest.



Danzig Report  Nr. 20 - July - August - September - October - 1978, Page 1.
Hits: 1490

Added: 06/06/2015
Copyright: 2023 Danzig.org