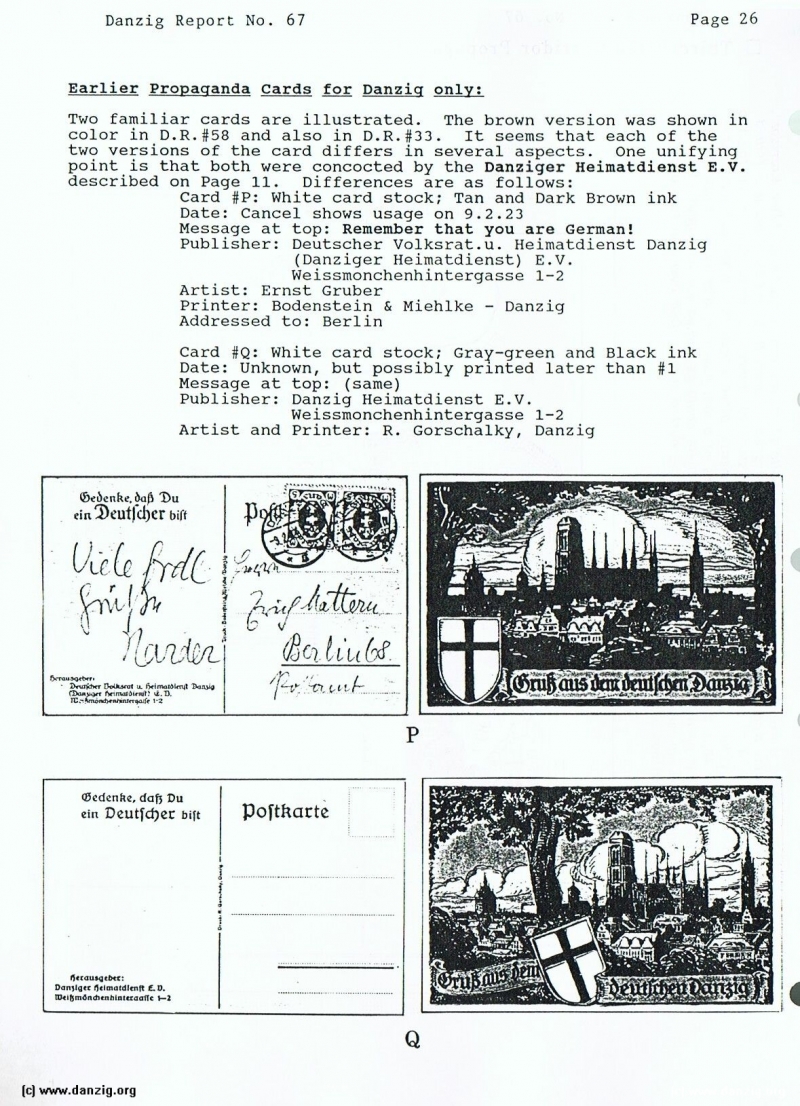 Earlier Propaganda Cards for Danzig only:
Two familiar cards are illustrated. The brown version was shown in color in D.R.#58 and also in D.R.#33. It seems that each of the two versions of the card differs in several aspects. One unifying point is that both were concocted by the Danziger Heimatdienst E.V. described on Page 11. Differences are as follows:

Card #P: White card stock; Tan and Dark Brown ink
Date: Cancel shows usage on 9.2.23
Message at top: Remember that you are German!
Publisher: Deutscher Volksrat.u. Heimatdienst Danzig (Danziger Heimatdienst) E.V.
Weissmonchenhintergasse 1-2 Artist: Ernst Gruber
Printer: Bodenstein & Miehike — Danzig
Addressed to: Berlin

Card #Q: White card stock; Gray-green and Black ink
Date: Unknown, but possibly printed later than #1
Message at top: (same)
Publisher: Danzig Heimatdienst E.V.
Weissinonchenhintergasse 1—2
Artist and Printer: R. Gorschalky, Danzig



Danzig Report Vol. 1 - Nr. 67 - April - May - June - 1990, Page 26.
Hits: 1013

Added: 29/06/2015
Copyright: 2023 Danzig.org