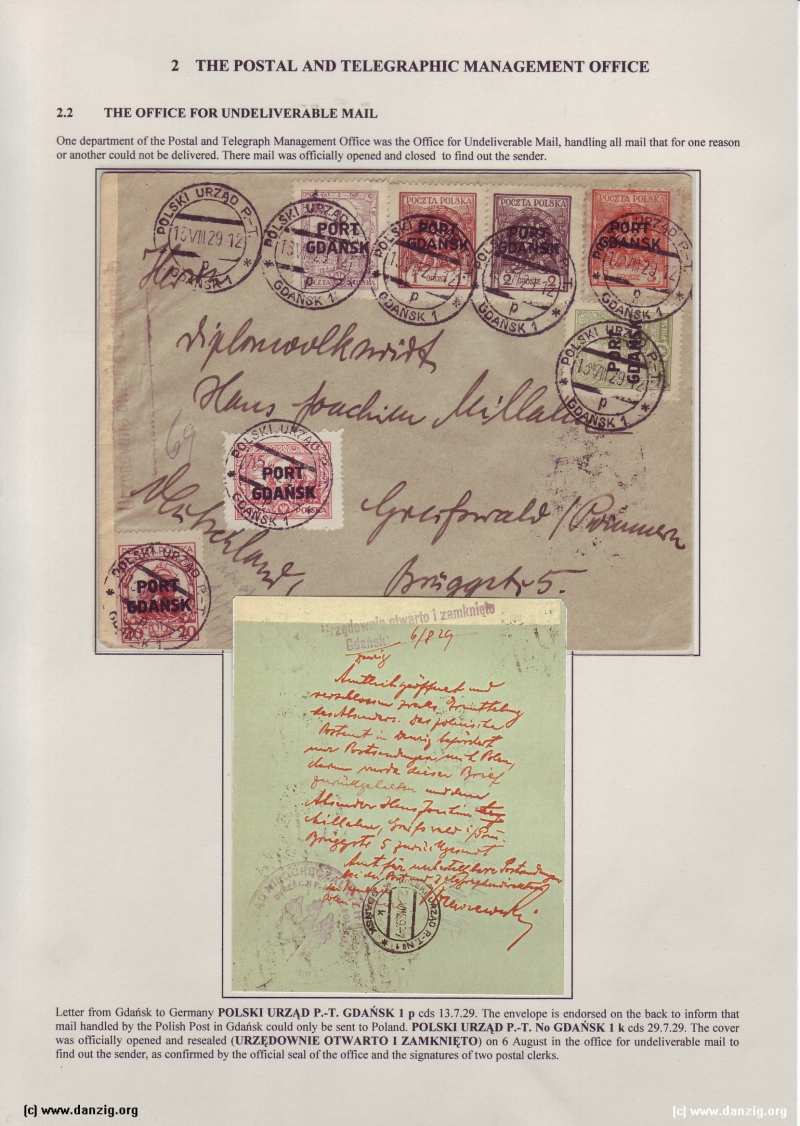 >> THE POLISH POST IN THE FREE CITY OF GDAŃSK 1920 - 1939
>> POCZTA POLSKA W WOLNYM MIEŚCIE GDAŃSKU 1920 - 1939

>> 2 THE POSTAL AND TELEGRAPHIC MANAGEMENT OFFICE
2.2 THE OFFICE FOR UNDELIVERABLE MAIL

One department of the Postal and Telegraph Management Office was the Office for Undeliverable Mail, handling all mail that for one reason or another could not be delivered. There mail was officially opened and closed to find out the sender.

Letter from Gdańsk to Germany POLSKI URZĄD P.-T. GDAŃSK 1 p cds 13.7.29. The envelope is endorsed on the back to inform that mail handled by the Polish Post in Gdańsk could only be cent to Poland. POLSKI URZĄD P.-T. No GDAŃSK 1 k cds 29.7.29. The cover was officially opened and resealed (URZĘDOWNIE OTWARTO I ZAMKNIĘTO) on 6 August in the office for undeliverable mail to find out the sender, as confirmed by the official seal of the office and the signatures of two postal clerks.

The Polish Post in the Free City of Gdańsk 1920 - 1939, Page 7.
Hits: 1370

Added: 14/12/2016
Copyright: 2023 Danzig.org