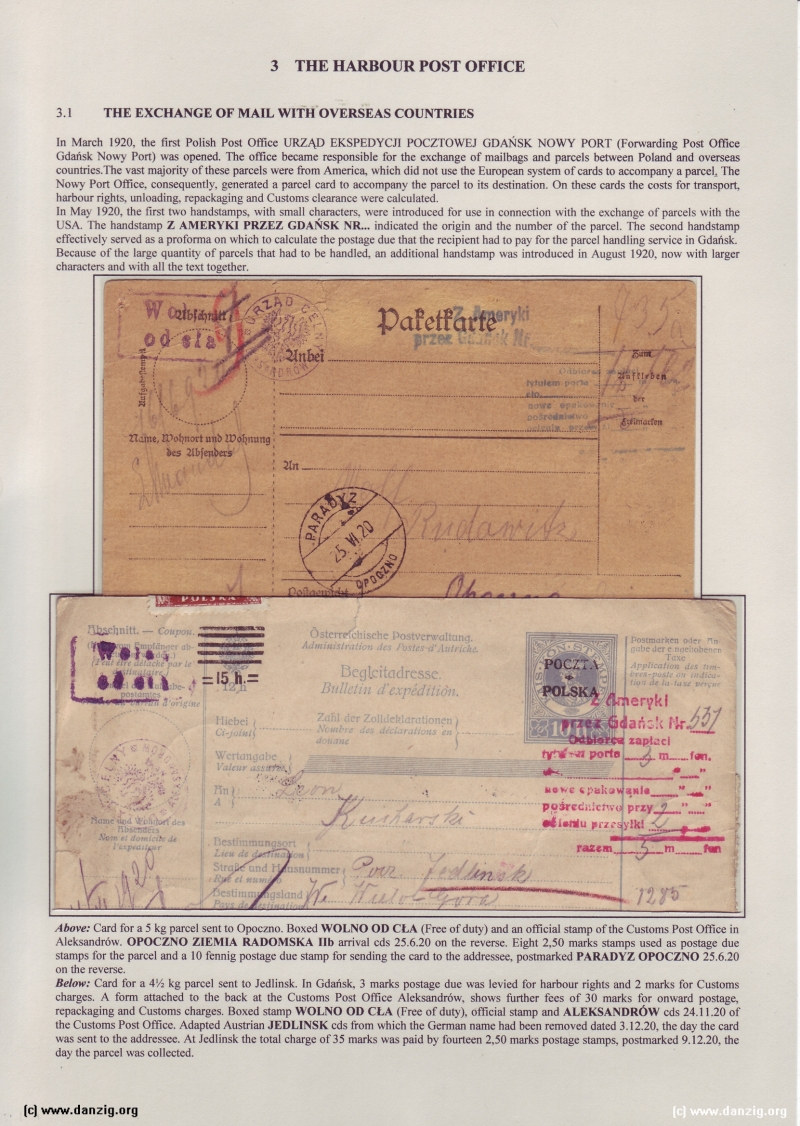 >> THE POLISH POST IN THE FREE CITY OF GDAŃSK 1920 - 1939


3 THE HARBOUR POST OFFICE
3.1 THE EXCHANGE OF MAIL WITH OVERSEAS COUNTRIES

In March 1920, the first Polish Post Office URZĄD EKSPEDYCJI POCZTOWEJ GDAŃSK NOWY PORT (Forwarding Post Office Gdańsk Nowy Port) was opened. The office became responsible for the exchange of mailbags and parcels between Poland and overseas countries.The vast majority of these parcels were from America, which did not use the European system of cards to accompany a parcel: The Nowy Port Office, consequently, generated a parcel card to accompany the parcel to its destination. On these cards the costs for transport, harbour rights, unloading, repackaging and Customs clearance were calculated.
In May 1920, the first two handstamps, with smali characters, were introduced for use in connection with the exchange of parcels with the USA. The handstamp Z AMERYKI PRZEZ GDAŃSK NR... indicated the origin and the number of the parcel. The second handstamp effectively served as a proforma on which to całculate the postage due that the recipient had to pay for the parcel handling service in Gdańsk. Because of the large quantity of parcels that had to be handled, an additional handstamp was introduced in August 1920, now with larger characters and with all the text together.

Above: Card for a 5 kg parcel sent to Opoczno. Boxed WOLNO OD CŁA (Free of duty) and an official stamp of the Customs Post Office in Aleksandrów. OPOCZNO ZIEMIA RADOMSKA IIb arrival cds 25.6.20 on the reverse. Eight 2,50 marks stamps used as postage due stamps for the parcel and a 10 fennig postage due stamp for sending the card to the addressee, postmarked PARADYZ OPOCZNO 25.6.20 on the reverse.
Below: Card for a 4½ kg parcel sent to Jedlinsk. In Gdańsk, 3 marks postage due was levied for harbour rights and 2 marks for Customs charges. A form attached to the back at the Customs Post Office Aleksandrów, shows further fees of 30 marks for onward postage, repackaging and Customs charges. Boxed stamp WOLNO OD CŁA (Free of duty), official stamp and ALEKSANDRÓW cds 24.11.20 of the Customs Post Office. Adapted Austrian JEDLINSK cds from which the German name had Been removed dated 3.12.20, the day the card was sent to the addressee. At Jedlinsk the total charge of 35 marks was paid by fourteen 2,50 marks postage stamps, postmarked 9.12.20, the day the parcel was collected.

>> >> >>

The Polish Post in the Free City of Gdańsk 1920 - 1939, Page 8.
Hits: 1462

Added: 14/12/2016
Copyright: 2023 Danzig.org