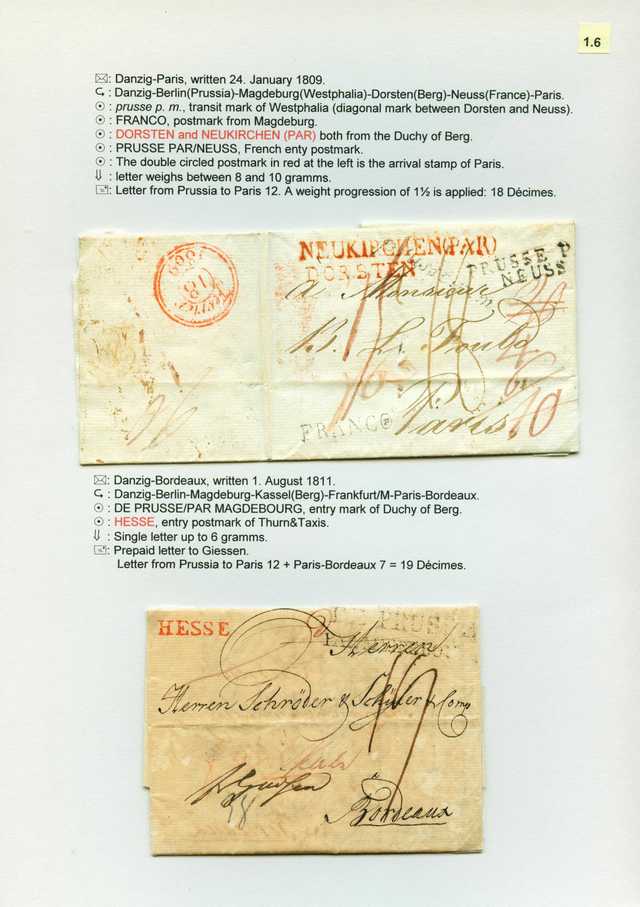 Routes, Transit cancels and Postal rates between Danzig and France.

- Danzig - Paris; letter of 24. January 1809.
Route; Danzig - Berlin (Prussia) - Magdeburg (Westphalia) - Dorsten (Berg) - Neuss (France) - Paris.
Postmarks; prusse p. m., transit mark of Westphalia (diagonal mark between Dorsten and Neuss), and;'Franco' postmark from Magedeburg, and; 'Dorsten' and Neukirchen(PAR)' both from the Duchy of Berg, and; 'Prusse par/Neuss', French entry postmark, and; The double circled postmark in red at the left is the arrival stamp of Paris.

- Danzig - Bordeaux; letter of 1. August 1811.
Route; Danzig - Berlin - Magdeburg - Kassel (Berg) - Frankfurt/M - Paris - Bordeaux.
Postmark; 'De Prusse/Par Magdebourg', entry mark of Duchy of Berg, and 'Hesse' in red, entry postmark of Thurm & Taxis.
Hits: 2149

Added: 05/11/2007
Copyright: 2023 Danzig.org