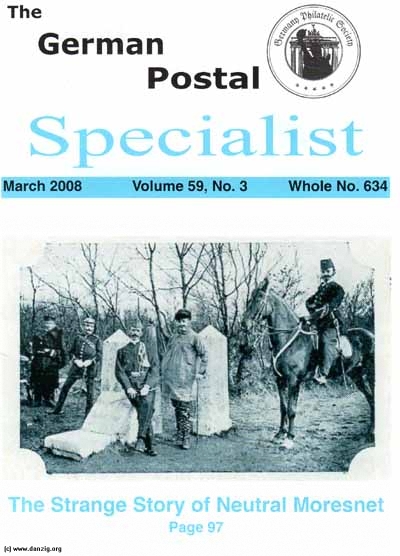 The German Postal Specialist 2008.

- Articles;
The Strange Story of Neutral Moresnet, page 97.
by Alfred F. Kugel.
The Streetcar Mail Fee in Hamburg 1921-1943, page 105.
by Howard Geisler.
Deutsche Post Postal Stationery, page 113.
by David N. Grayson.

- News;
IBRA and NAPOSTA 2009 Participation, page 127.

- Columns;
Germany on Exhibit, page 125.
Letters to the Editor, page 91.
Mit Deutscher Post; Postlagernd, page 118.
New Issues, page 122.
The View From Here; On Research Notes, page 95.

- Departments;
Adlets, page 132.
Membership Report, page 131.
Hits: 1737

Added: 29/10/2008
Copyright: 2023 Danzig.org