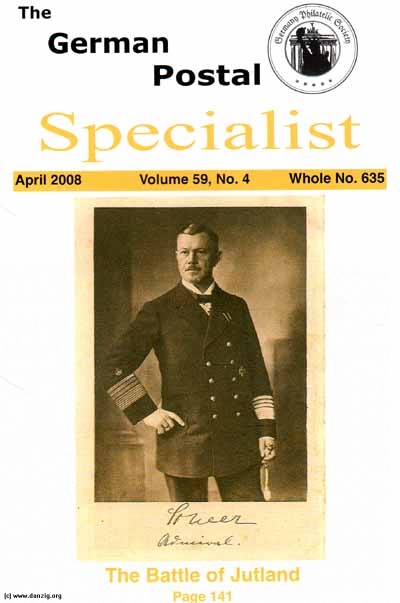 The German Postal Specialist 2008.

Articles;
The battle of Jutland, page 141.
by John R. Norris, M.D.
Stages of Fame!, page 153.
by Jason H. Manchester.
The Germans in the Caprivi Strip, page 158.
by Alfred F. Kugel.

- News;
GPS at St. Louis Stamp Expo, page 168.
Al Kugel Wins Blizil Award, page 171.

- Columns;
Germany on Exhibit, page 167.
Letters to the Editor, page 135.
Mit Deutscher Post; Reply Postcards, page 160.
New Issues, page 165.
The View From Here; Why Exhibit? page 139.

- Departments;
Adlets, page 176.
Membership Report, page 175.
Hits: 1656

Added: 29/10/2008
Copyright: 2023 Danzig.org