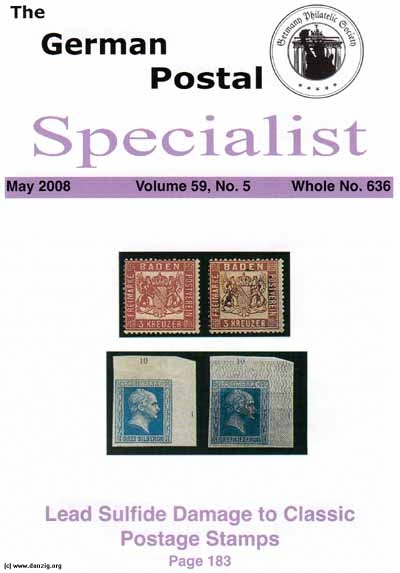 - Articles;
Lead Sulfide Damage to Classic Postage Stamps, page 183.
by Peter Feuser.
Marshall Inseln Atollpost, page 193.
by Robert Stein.
Courier Service Stamps of South Ukraine in 1944, page 199.
by Alfred F. Kugel.

- News;
GPS General Membership Meeting at St. Louis Stamp Expo, page 211.
GPS board of Directors Meeting at St.Louis Stamp Expo, page 214.

- Columns;
Book Review; Nazi Germany and Fascist Italy Propaganda Postcards, Volume I, page 198.
Letters to the Editor, page 179.
Mit Deutscher Post: Local Mail and Mail to Neighboring Places, page 203.
New Issues, page 206.
The View From Here; More on Sharing, page 181.

- Departments;
Adlets, page 220.
Membership Report, page 219.
Hits: 1817

Added: 29/10/2008
Copyright: 2023 Danzig.org