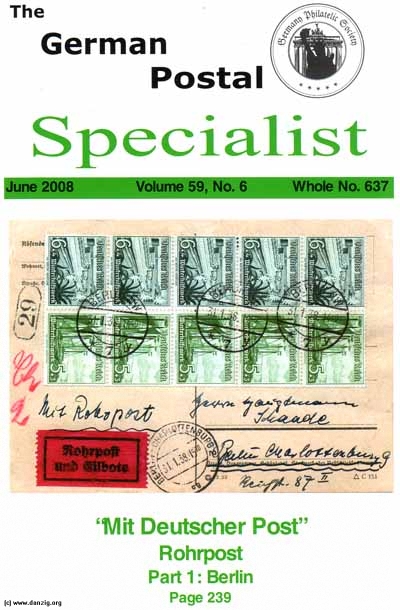 - Articles;
Berlin, April 1945, page 227.
by Benjamin R. Beede.
It was a Philatelic Jewel in Hiding, page 235.
by Harold E. Peter.
Charge for Unreturned Phone Book, page 246.
by Benjamin R. Beede.
Collector Disposition, page 247.
by Mike Peter.

- News;
Essen Site of GPS-BDPh Salon, page 258.

- Columns;
Collector Questions, page 250.
Letters to the Editor, page 223.
Mit Deutscher Post; Rohrpost Pneumatic Mail,
Part 1; Berlin, page 239.
New Issues, page 254.
The View From Here; On Collections vs Exhibits, page 225.

- Departments;
Adlets, page 220.
Membership Report, page 219.
Hits: 1770

Added: 29/10/2008
Copyright: 2023 Danzig.org