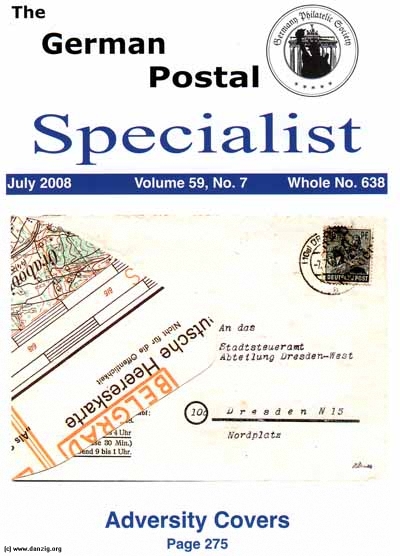 - Articles;
Adversity Covers, page 275.
by James W. Busse.
Kiel Train Station Cancel 1845 - 1854, page 289.
by Mike Peter.
Large 1941 Cover to the U.S., "via Lati" page 294.
by W. David Ripley III.
Leitstelle Treptow, page 297.
by John R. Norris.

- Columns;
Letters to the Editor, page 267.
Mit Deutscher Post; Rohrpost = Pneumatic Mail, Part 1; Postage-Free Mail and Official Mail, page 300.
by Gerhard Binder and Jim Graue.
New Issues, page 302.
The View From Here; On Condition, page 273.

- Departments;
Adlets, page 308.
Membership Report, page 307.
Hits: 1638

Added: 29/10/2008
Copyright: 2023 Danzig.org