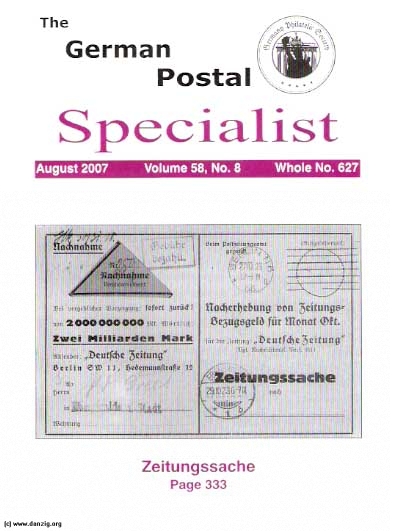 - Articles;
Germany's Vistula Flotilla in World War I, page 319.
by Alfred F Kugel.
One Ruhr Card, page 325.
by Howard Geisler.
Postal Express Service, page 330.
Transcript from Benjamin R. Beede.

- News;
International Relations Report, page 344.

- Columns;
Book Review; LZ-127 Graf Zeppelin kehrt zurückt, page 328.
Collector Question, page 327.
Letters to the Editor, page 311.
Mit Deutscher Post; Zeitungssachen = Newspaper Orders - Zeitungssache, page 333.
By Gerhard Binder and Jim Graue.
New Issues, page 341.
The View From Here; On eBay Censorship, page 317.

- Departments;
Adlets, page 352.
Membership Report, page 351.
Hits: 1728

Added: 29/10/2008
Copyright: 2023 Danzig.org