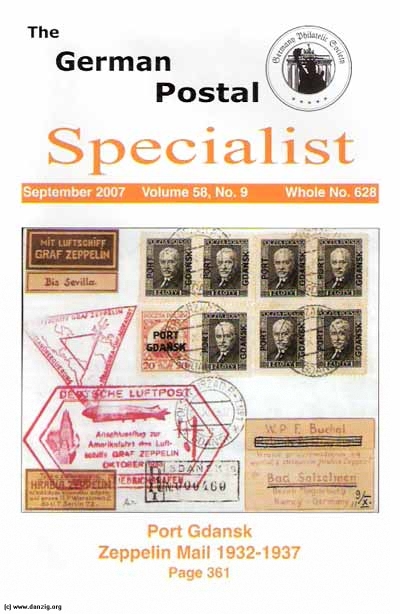 The German Postal Specialist.

- Articles;
Port Gdansk Zeppelin Mail 1932-1937, page 361.
by Hans Vogels.
Start to Become a Color Expert, page 375.
by Jerry Jensen.

- News;
A Report from Portland, page 387.
Germany on Exhibit, page 383.
International Relations Report, page 389.

- Columns;
Letters to the Editor, page 355.
Mit Deutscher Post; Postsache = Postal International Mail, page 384.
by Gerhard Binder and Jim Graue.
New Issues, page 380.
The View From Here; On New Postal Rates, page 359.

- Departments;
Adlets, page 395.
Membership Report, page 393.
Hits: 2010

Added: 29/10/2008
Copyright: 2023 Danzig.org