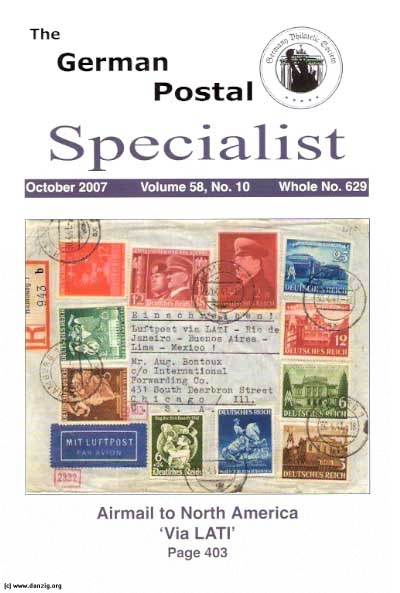 The German Postal Specialist.

- Articles;
Airmail to North America 'via LATI', page 403.
by Heinz Findeiss, M.D.
How Sweet it Is! page 417.
by Howard Geisler.
The Role of the Graf Zeppelin, page 424.
by Cheryl R. Ganz, PhD.
Berlin Registered Mail Label with Unusual Text, page 426.
by Benjamin Beede.
Unlisted Plate Flaw on RM 4 Zeppelin Stamp, page 429.
by Henrick Thode.

- News;
Gold and Silver Members for 2008, page 439.

- Columns;
Book Reviews, pages 423, 428.
Letters to the Editor, page 399.
Mit Deutscher Post; Blindenschrift = Braille/Mail for the Blind, page 430.
by Gerhard Binder and Jim Graue.
New Issues, page 431.
The View From Here; On Book Reviews, page 401.

- Departments;
Adlets, page 440.
Membership Report, page 438.
Hits: 1557

Added: 29/10/2008
Copyright: 2023 Danzig.org