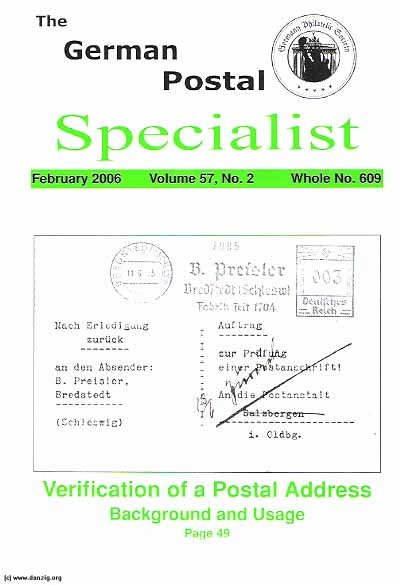 The German Postal Specialist.

- Articles;
Verification of a Postal Address, Background and Usage, page 49.
by Jerry H. Miller.
The Voyage of the Goeben, page 63.
by Johne R. Norris.
First Day Use of Aschaffenburg Meter Stamp Under Allied Occupation, page 67.
by Benjamin R. Beede.
The Abstimmung Cards of 1938, page 70.
by George E. Kuhn.

- News;
Minutes of G.P.S. Board of Director Meeting, page 79.

- Columns;
Letters to the Editor, page 47.
Mit Deutscher Post; Einschreiben, page 72.
New Issues, page 74.

- Departments;
Adlets, page 88.
Membership Report, page 86.
Hits: 1802

Added: 30/10/2008
Copyright: 2023 Danzig.org