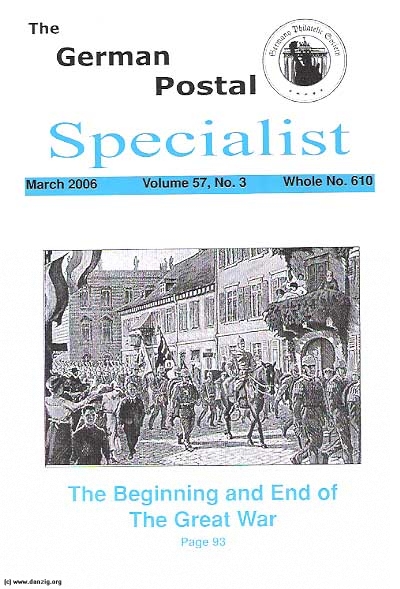 - Articles;
The Beginning and End of The Great War, page 93.
by Alfred F. Kugel.
The Postscheckdruckerei at Werl, page 105.
by Benjamin R. Beede.
Prisoner Mail of Walter Reder, page 106.
by Jason H. Manchester.
Plate Varieties of 2 Mark Reichspost, page 110.
by David Barnette.

- News;
Convention at Chicago in November, page 123.
2007 GPS-BDPh Salon in Florida, page 125.
Forgery Manual is Computerized, page 126.

- Columns;
Collector Questions, page 113.
From the President, page 127.
Letters to the Editor, page 91.
Mit Deutscher Post; Sender-Prepared Registration, page 116.
New Issues, page 119.

- Departments;
Adlets, page 132.
Membership Report, page 131.
Hits: 1810

Added: 30/10/2008
Copyright: 2023 Danzig.org