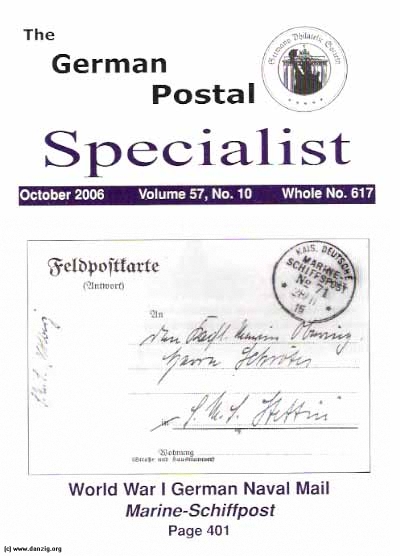 German Postal Specialist.

- Articles;
World War I German Naval Mail, Marine Schiffpost, page 401.
by John R. Norris.
The Winter Mountain Monument, page 412.
by Howard Geisler.
Unusual Soviet Zone Currency Reform Cover, page 420.
by Alfred F. Kugel.
1911 German Proposal fro International Reply Stamps, page 423.
by Marvin Murry.
Bohemia-Moravia Insured COD Cover Delivered After World War II, page 425.
by Benjamin R. Beede.

- News;
G.P.S. Awards Banquet at Chicagopex, page 435.

- Columns;
Collector Questions, page 399.
Mit Deutscher Post; Nachnahme = COD Mail, page 427.
by Gerhard Binder and Jim Graue.
New Issues, page 430.

- Departments;
Adlets, page 440.
Membership Report, page 439.
Hits: 1150

Added: 30/10/2008
Copyright: 2023 Danzig.org