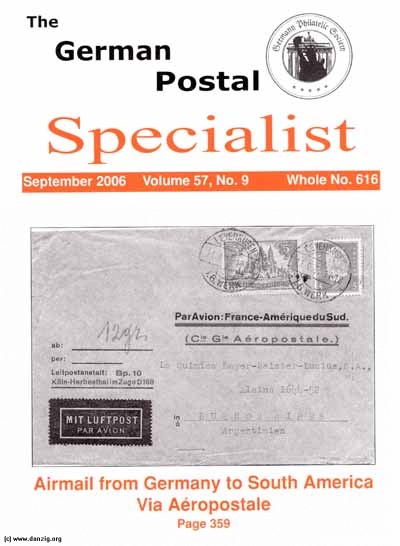 The German Postal Specialist.

- Articles;
Airmail from Germany to South America Via Aéropostale, page 359.
by Jim Graue.
An Historical World War I Cover from East Africa, page 377.
by A. Lavar Taylor.
Graf Zeppelin Crewmember Mail, page 380.
by Michael Peter.
Soviet Zone Price List from 1948, page 384.
by Phil Rhoade.

- News;
George Blizil Literature Memorial Award for 2005, page 391.

- Columns;
Book Review; Thurn and Taxis in Baden. Die Kaiserliche Reichspost und Lehenpost in Baden, page 388.
by Wolfgang Maassen.
Letters to the Editor, page 355.
Mit Deutscher Post, Express; Rural Districts and Small Villages, page 387.

- Departments;
Adlets, page 396.
Membership Report, page 395.
Hits: 1908

Added: 30/10/2008
Copyright: 2023 Danzig.org