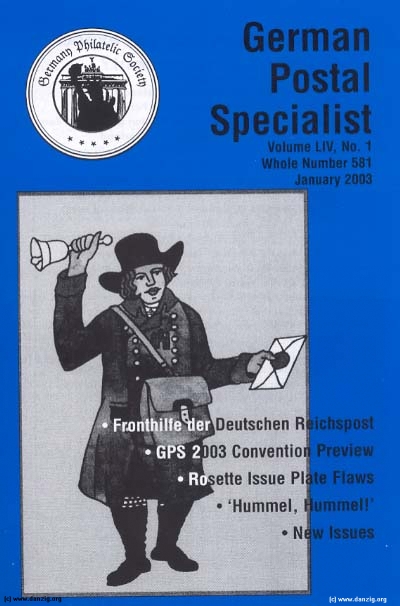 - Features;
Basic Rosette Plate Flaws, page 14.
by William Thompson.
Fronthilfe der Deutschen Reichspost, page 22.
by Benjamin R. Beede.
'Hummel, Hummel!', page 28.
by George E. Kuhn.
More Flea Markets of Germany, page 32.
by James Morrison.

- News;
Come Join Us at COLOPEX, page 10.
German Roots on Columbus, page 10.
G.P.S0 Exhibits at COLOPEX, page 11.
G.P.S. Events at COLOPEX, page 12.
GPS Donations 2002-2003, page 20.
Forgery Vol. IV on CD-ROM, page 25.
SMS Königsberg cover sold, page 33.
New Issues; December, page 34.

- Departments;
G.P.S. Mailbox, page 6.
Collector's Questions, page 9.
G.P.S. Study Group Journals, page 26.
G.P.S. Membership Report, page 30.
Lapsed List, page 30.
Awards and Honors, page 40.
Adlets, page 44.
Hits: 1748

Added: 30/10/2008
Copyright: 2023 Danzig.org