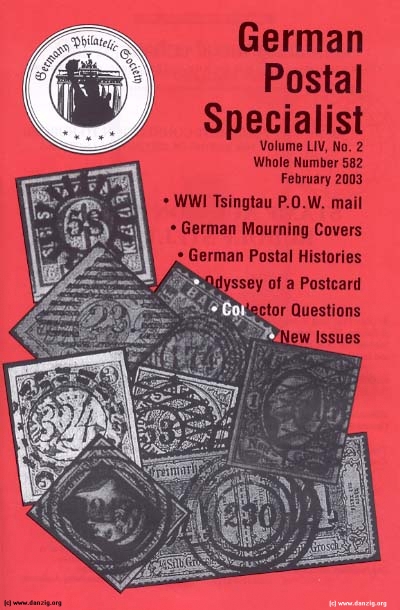 German Postal Specialist 2003.

- Features;
Values for mail from and to Germans captured at Tsingtau and held in Japanese Prisoner-of-War Camps during World War I, page 62.
by Axel Dörrenbach & Fred Baumann.
Odyssey of a Postcard, page 68.
by Frank Lorch.
German Mourning Covers, page 72.
by Fred Baumann.
Major German Postal Histories, page 78.
by Benjamin R. Beede.

- News;
New Issues; January 2003, page 82.

- Departments;
Collector's Questions, page 9.
Collectable Varieties, page 57.
Kaleidoscope, page 58.
G.P.S. Study Group Journals, page 71.
Adlets & Ad Rates, page 88.
G.P.S. Membership Report, page 89.
Hits: 1935

Added: 30/10/2008
Copyright: 2023 Danzig.org