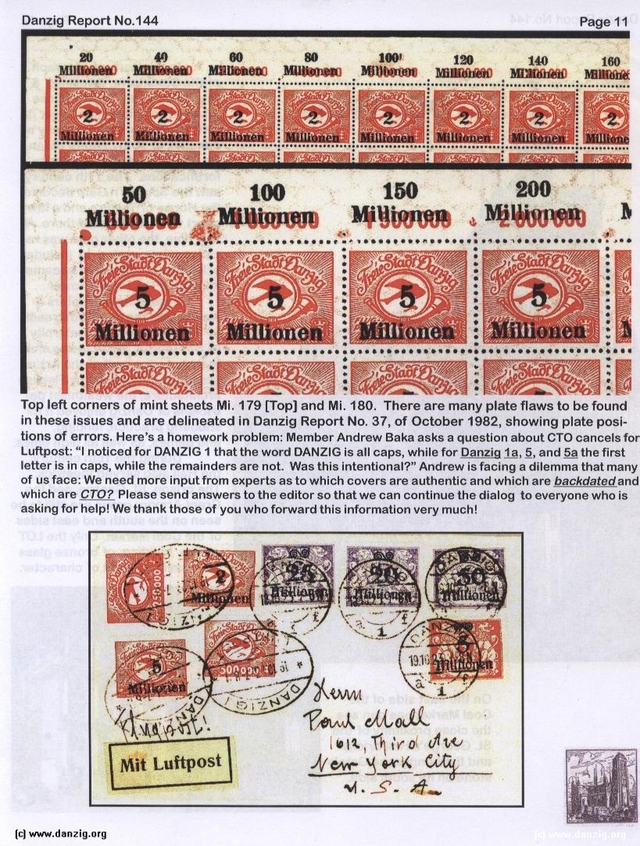 Continuing with More Nine-Yard Studies.
In our continuing series of defining the threee printing plants of Danzig Stamps; Julius Sauer firm, located on Fleischergasse in western Danzig; Postdruckerei Danzig located in the Postdirektion Building, on the Winter Platz near the river; and, later, in 1938, printed in the Reichspostdruckerei Berlin.
The last of these studies was in DR-141, covering the Inflation years thru Michel stamp 168.
- Fifth Airmail Series - For the inflation, Michel Nr. 177-180.
Top left corners of mint sheets Michel 179, Top and Michel 180.
There are many plate flaws to be found in these issues and are delineated in Danzig Report Nr. 37, of October 1982, showing plate positions of errors.

Danzig Report Nr. 144.
Hits: 1497

Added: 11/03/2009
Copyright: 2021 Danzig.org