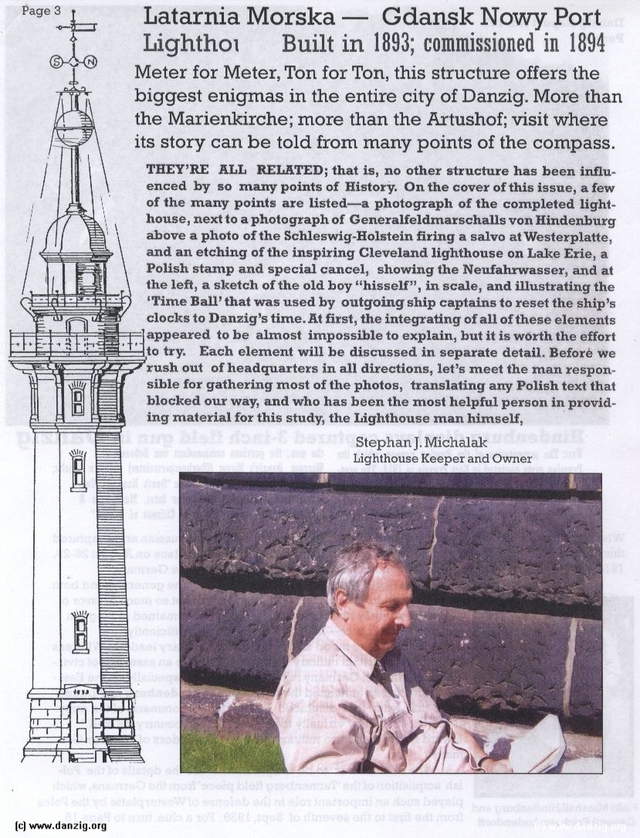 Latarnia Morsa - Gdansk Nowy Port.

Lighthouse Built in 1893; commissioned in 1894.
Meter for Meter, Ton for Ton, this structure offers the biggest enigmas in the entire city of Danzig. More than the Marienkirche; more than the Artushof; visit where its story can be told from many points of the compass.

They're all related; that is, no other structure has been influenced by so many points of History. On the cover of this issue, a few of the many points are listed - a photograph of the completed lighthouse, next to a photograph of Generalfeldmarschalls von Hindenburg above a photo of the Schleswig-Holstein firing a salvo at Westerplatte, and an etching of the inspiring Cleveland lighthouse on Lake Erie, a Polish stamp and special cancel, showing the Neufahrwasser, and at the left, a sketch of the old boy "himself", in scale, and illustrating the 'Time Ball' that was used by outgoing ship captains to reset the ship's clocks to Danzig's time. At first, the integrating of all of these elements appeared to be almost impossible to explain, but it is worth the effort to try. Each element will be discussed in separate detail. Before we rush out of headquarters in all directions, let's meet the man responsible for gathering most of those photos, translating any Polish text that blocked our way, and who gas been the most helpful person in providing material for this study, the Lighthous man himself,
Stephan J. Michalak
Lighthouse Keeper and Owner.
Hits: 1253

Added: 27/08/2010
Copyright: 2020 Danzig.org
15,979,264 total views, 326 views today