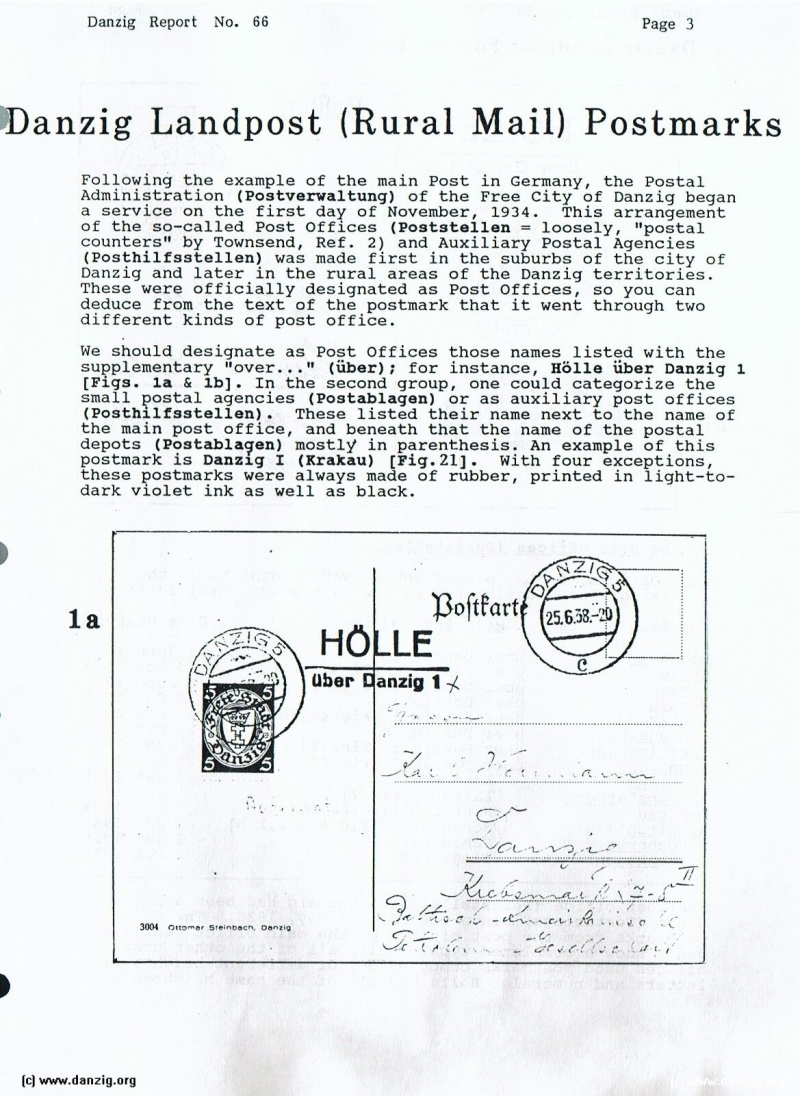 Danzig Landpost (Rural Mail) Postmarks


Following the example of the main Post in Germany, the Postal Administration (Postverwaltung) of the Free City of Danzig began a service on the first day of November, 1934. This arrangement of the so—called Post Offices (Poststellen =loosely, "postal counters" by Townsend, Ref. 2) and Auxiliary Postal Agencies (Posthilfsstellen) was made first in the suburbs of the city of Danzig and later in the rural areas of the Danzig territories. These were officially designated as Post Offices, so you can deduce from the text of the postmark that it went through two different kinds of post office.

We should designate as Post Offices those names listed with the supplementary "over..." (über); for instance, Hölle über Danzig 1 Figures 1a & 1b. In the second group, one could categorize the small postal agencies (Postablagen) or as auxiliary post offices (Posthilfsstellen). These listed their name next to the name of the main post office, and beneath that the name of the postal depots (Postabgaben) mostly in parenthesis. An example of this postmark is Danzig I (Krakau) Figure 21. With four exceptions, these postmarks were always made of rubber, printed in light-to-dark violet ink as well as black.



Danzig Report  Nr. 66 - January - February - March - 1990, Page 3.
Hits: 1006

Added: 28/06/2015
Copyright: 2021 Danzig.org