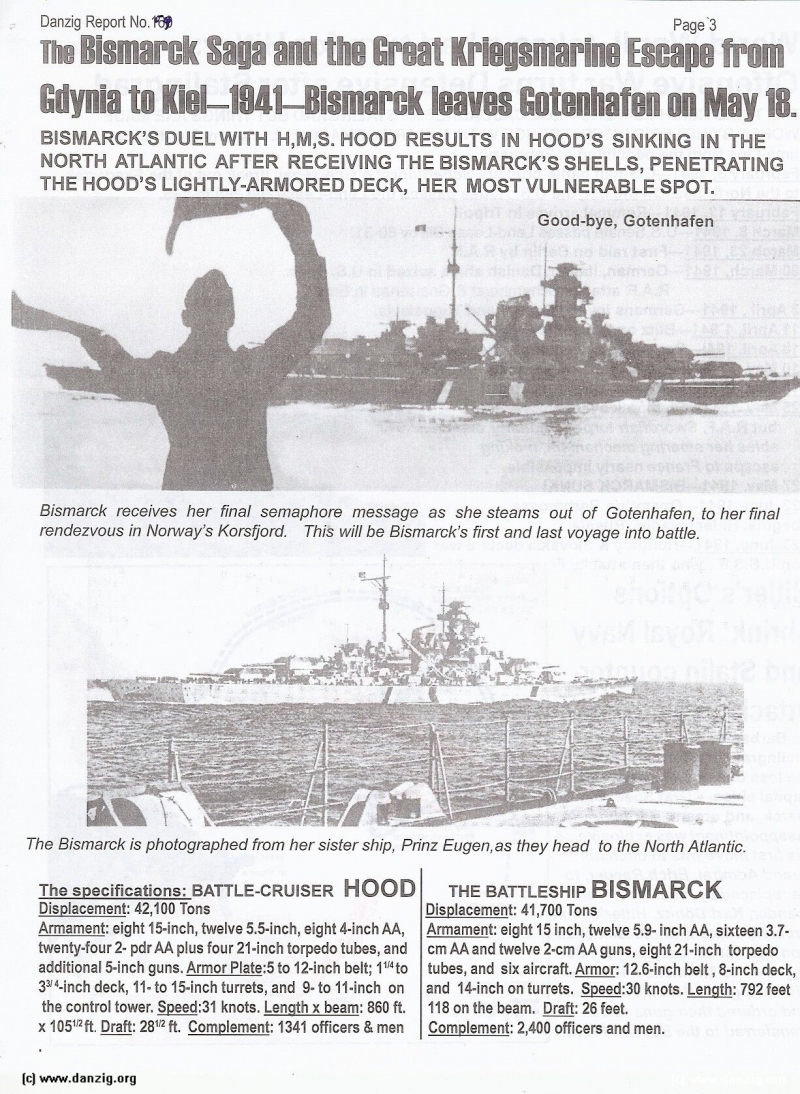 The Bismarck Saga and the Great Kriegsmarine Escape from Gdynia to Kiel 1941-Bismarck leaves Gotenhafen on May 18.

BISMARCK'S DUEL WITH H.M.S. HOOD RESULTS IN HOOD'S SINKING IN THE NORTH ATLANTIC AFTER RECEIVING THE BISMARCK'S SHELLS, PENETRATING THE HOOD'S LIGHTLY-ARMORED DECK, HER MOST VULNERABLE SPOT.

Good-bye, Gotenhafen

Bismarck receives her final semaphore message as she steams out of Gotenhafen, to her final rendezvous in Norway's Korsfjord. This will be Bismarck's first and last voyage into battle.

The Bismarck is photographed from her sister ship, Prinz Eugen, as they head to the North Atlantic.

The specifications: BATTLE-CRUISER HOOD
Displacement: 42,100 Tons
Armament: eight 15-inch, twelve 5.5-inch, eight 4-inch AA, twenty-four 2- pdr AA plus four 21-inch torpedo tubes, and additional 5-inch guns. Armor Plate: 5 to 12-inch belt; 1¼ to 3¾    -inch deck, 11- to 15-inch turrets, and 9- to 11-inch on the control tower. Speed: 31 knots. Length x beam: 860 ft. x 105½ ft. Draft: 28½ feet Complement: 1341 officers & men.

THE BATTLESHIP BISMARCK
Displacement: 41,700 Tons
Armament: eight 15 inch, twelve 5.9- inch AA, sixteen 3.7- cm AA and twelve 2-cm AA guns, eight 21-inch torpedo tubes, and six aircraft. Armor: 12.6-inch belt, 8-inch deck, and 14-inch on turrets. Speed: 30 knots. Length: 792 feet 118 on the beam. Draft: 26 feet.
Complement: 2,400 officers and men.



Danzig Report  Nr. 159 - 1st Quarter 2013, Page 3.
Hits: 2064

Added: 12/08/2015
Copyright: 2023 Danzig.org