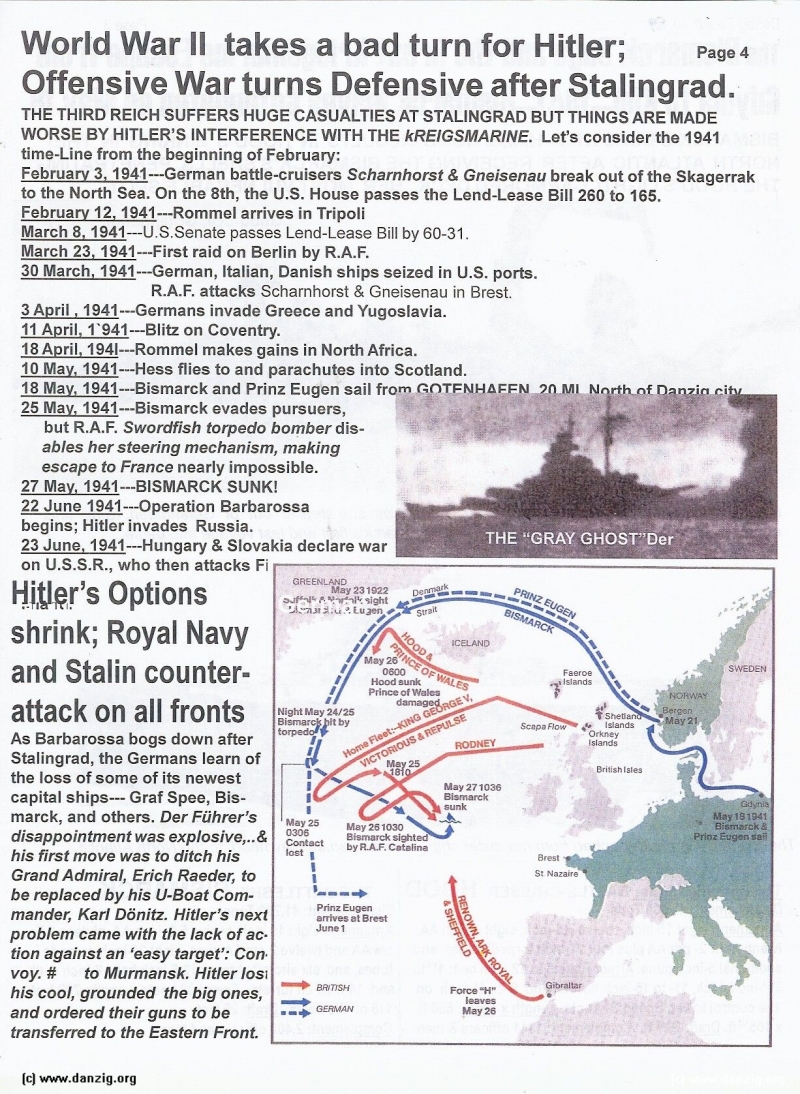 World War II takes a bad turn for Hitler; Offensive War turns Defensive after Stalingrad.

THE THIRD REICH SUFFERS HUGE CASUALTIES AT STALINGRAD BUT THINGS ARE MADE WORSE BY HITLER'S INTERFERENCE WITH THE kREIGSMARINE. Let's consider the 1941 time-Line from the beginning of February:

February 3, 1941 --- German battle-cruisers Scharnhorst & Gneisenau break out of the Skagerrak to the North Sea. On the 8th, the U.S. House passes the Lend-Lease Bill 260 to 165.
February 12, 1941 --- Rommel arrives in Tripoli
March  8,  1941 ------ U.S.Senate passes Lend-Lease Bill by 60-31.
March 23, 1941 ------ First raid on Berlin by R.A.F.
30 March, 1941 ------ German, Italian, Danish ships seized in U.S. ports. R.A.F. attacks Scharnhorst & Gneisenau in Brest.
3 April, 1941 ----- Germans invade Greece and Yugoslavia.
11 April, 1941 --- Blitz on Coventry.
18 April, 1941--- Rommel makes gains in North Africa.
10 May, 1941 --- Hess flies to and parachutes into Scotland.
18 May, 1941 --- Bismarck and Prinz Eugen sail from GOTENHAFEN
25 May, 1941 --- Bismarck evades pursuers, but R.A.F. Swordfish torpedo bomber disables her steering mechanism, making escape to France nearly impossible.
27 May, 1941---- BISMARCK SUNK!
22 June 1941 --- Operation Barbarossa begins; Hitler invades Russia.
23 June, 1941--- Hungary & Slovakia declare war on U.S.S.R., who then attacks Fl

Hitler's Options shrink; Royal Navy and Stalin counterattack on all fronts
As Barbarossa bogs down after Stalingrad, the Germans learn of the loss of some of its newest capital ships--- Graf Spee, Bismarck, and others. Der Führer's disappointment was explosive,.. & his first move was to ditch his Grand Admiral, Erich Raeder, to be replaced by his U-Boat Commander, Karl Dänitz. Hitler's next problem came with the lack of action against an 'easy target' Convoy. # to Murmansk. Hitler his cool, grounded the big ones, and ordered their guns to be transferred to the Eastern Front.



Danzig Report  Nr. 159 - 1st Quarter 2013, Page 4.
Hits: 2103

Added: 12/08/2015
Copyright: 2023 Danzig.org