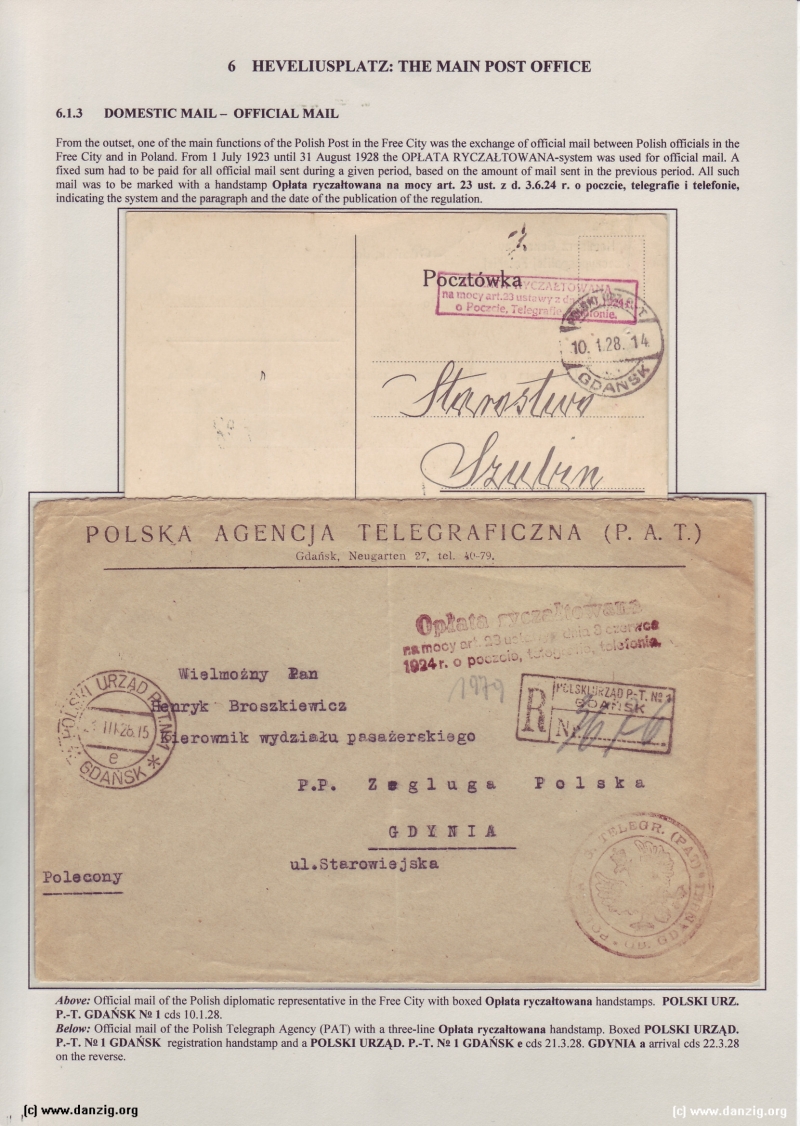 >> THE POLISH POST IN THE FREE CITY OF GDAŃSK 1920 - 1939
>> POCZTA POLSKA W WOLNYM MIEŚCIE GDAŃSKU 1920 - 1939

>> 6 HEVELIUSPLATZ: THE MAIN POST OFFICE
6.1.3 DOMESTIC MAIL — OFFICIAL MAIL

From the outset, one of the main functions of the Polish Post in the Free City was the exchange of official mail between Polish officials in the Free City and in Poland. From 1 July 1923 until 31 August 1928 the OPŁATA RYCZAŁTOWANA-system was used for official mail. A fixed sum had to be paid for all official mail sent during a given period, based on the amount of mail sent in the previous period. All such mail was to be marked with a handstamp Opłata ryczałtowana na mocy art. 23 ust. z d. 3.6.24 r. o poczcie, telegrafie i telefonie, indicating the system and the paragraph and the date of the publication of the regulation.

Above: Official mail of the Polish diplomatic representative in the Free City with boxed Opłata ryczałtowana handstamps. POLSKI URZ. P.-T. GDAŃSK NQ 1 cds 10.1.28.
Below: Official mail of the Polish Telegraph Agency (PAT) with a three-line Opłata ryczałtowana handstamp. Boxed POLSKI URZĄD. P.-T. No 1 GDAŃSK registration handstamp and a POLSKI URZĄD. P.-T. NQ I GDAŃSK e cds 21.3.28. GDYNIA a arrival cds 22.3.28 on the reverse.

>> >> >>

The Polish Post in the Free City of Gdańsk 1920 - 1939, Page 67.
Hits: 1118

Added: 23/12/2016
Copyright: 2023 Danzig.org