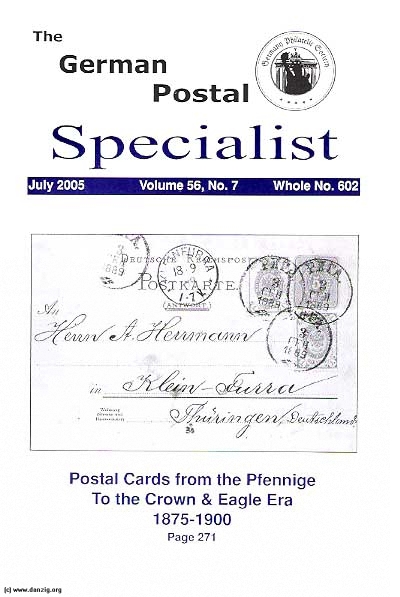 German Postal Specialist.
- Articles;
Postal Cards from the Pfennige to the Crown & Eagle Era 1875-1900, Part I, page 271.
by Dieter Sejak, translated by Rudi Anders.
A Telling Card, page 281.
by Howard Geisler.
An OPD Chemmitz Meter Stamp, page 289.
by Benjamin R. Beede.

- News;
Germany on Exhibit, page 301.
BALPEX Convention Planning, page 302.
Gold and Silver Mambers for 2005, page 303.

- Columns;
Book Review; German Inflation 1916-1923; Farewell Issue of Bavaria, Part I, page 291.
by Jason H. Manchester.
Book Review; Special Airship Mail and Postcard Catalogue, page 292.
by Jim Graue.
Editor's Notes, page 269.
Letters to the Editor, page 267.
Mit Deutscher Post, Drucksache, page 285.
New Issues, page 295.

- Departments;
Adlets, page 308.
Membership Report, page 307.
Hits: 1734

Added: 30/10/2008
Copyright: 2023 Danzig.org