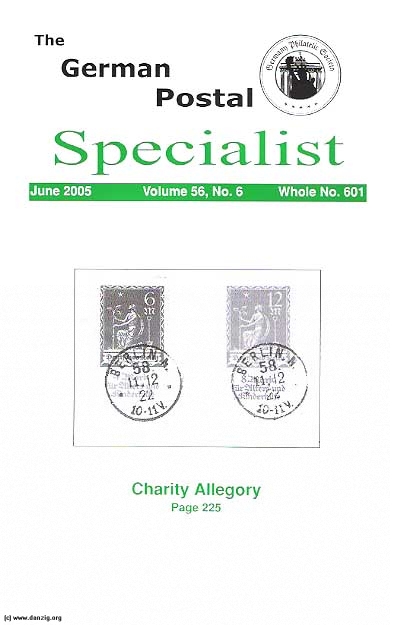 The German Postal Specialist.

- Articles;
Charity Allegory, page 225.
by Howard Geisler.
End of the German Presence in China; The War Years 1914-1918, Part 2, page 231.
by Jerry H. Miller.
Question About American Censorship in Occupied Rhineland 1918-1919, page 239.
by Robin Pizer.
Public Assistance Needed for Actual Issue Date, page 247.
by Howard Geisler.
The Day After Capitulation, page 251.
by Benjamin R. Beede.

- News;
G.P.S. at BALPEX in September, page 245.
Germany on Exhibit, page 258.

- Columns;
Book Review; Handbuch der Poststempel von Hamburg bis 1875, page 248.
by Harold E. Peter.
Letters to the Editor, page 223.
New Issues, page 254.

- Departments;
Adlets, page 264.
Membership Report, page 263.
Hits: 1939

Added: 30/10/2008
Copyright: 2023 Danzig.org