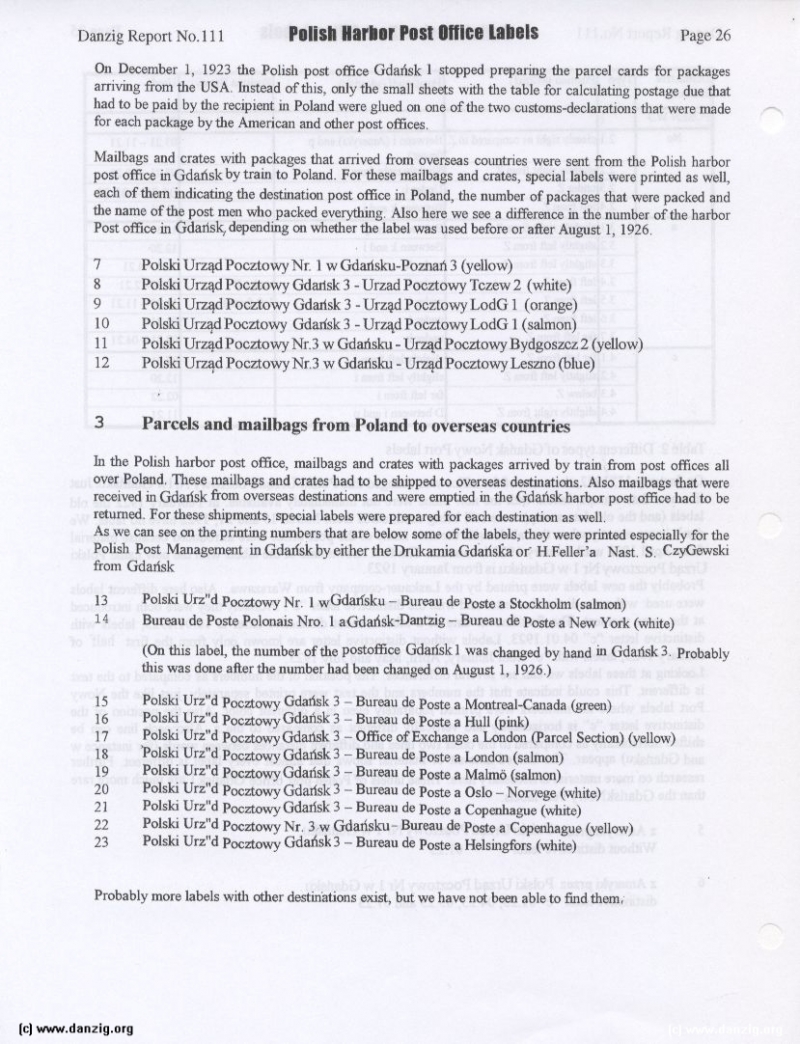 On December 1, 1923 the Polish post office Gdaz'isk 1 stopped preparing the parcel cards for packages arriving from the USA Instead of this, only the small sheds with the table for calculating postage due that had to be paid by the recipient in Poland were glued on one of the two customs-declarations that were made for each package by the American and other post offices,

Mailbags and crates with packages that amved from overseas countries were sent from the Polith harbor post office in (Idai'isk by train to Poland For these mailbags and crates, special labels were printed as well, each of them indicating the destination post office in Poland, the number of packages that were packed and the name of the post men who packed everything Also here we see a difference in the number of the harbor Post office in Gdatlsk, depending on whether the label was used before or after August 1, 1926

7 PoIski Urzd Pocztowy Ni. 1 w Gdaitsku-Poziiafi 3 (yellow)
8 Polski Urzd Pocztowy Gdailsk 3- Urzad Pocztowy Tczew 2 (white)
9 Pot ski Urzqd Pocztowy Gdaitsk 3- Urzd Pocztowy LodG 1 (orange)
10 Polski Urzqd Poczzowy Gdaitsk 3- Urzd Pocztowy LodG I (salmon)
11 Polski Urzqd Pocztowy Ni. 3 w Gdarisku - Urzqd Pocztowy Bydgoszcz 2 (yellow)
12 Polski Urzad Pocztowy Nr.3 w Gdaisku - Urzqd Pocztowy Lesnio (blue)

3 Parcels and mailbags from Poland to overseas countries

In the Polish harbor post office, mailbags and crates with packages amved by train from post offices all over Poland. These mailbags and crates had to be shipped to overseas destinations. Also mailbags that were received in Gdaiisk from overseas destinations and were ençtied in the C'idaisk harbor post office had to be returned For those ShipiTlents, special labels were prepared for each destinaixin as well,

As we can see on the printing numbers that are below some of the labels, they were printed especially for the Polish Post Management in Gdaisk by either the Drukainia Gdarska or H.Feller'a Nast S Czewski from Gdansk

13 Polski Urz'd Nr. I wGdaiIsku Bureau de Posto a Stockholm (salmon)
14 Bureau do Poste Polonais Nw. I aGdajisk-Dantzig - Bureau do Poste a New York (white) (On this label,, the number of the postoffice Gdaisk I was changed by hand in Gdaisk 3. Probably this was done after the number had been changed on August 1, 1926.)
15 Polski Urz"d Poctowy Gdaiisk 3 — Bureau do Poste a Montreal-Canada (green)
16 Polski Urz'd Poczlowy Gdaiisk 3 - Bureau do Poste a Hull (pink)
17 PoLski Urz"d Piy Gcjaisk 3 — Office of Exchange a London (Parcel Section) (yellow)
18 Polski Urz"d Pocztowy Gdaiisk 3— Bureau de Poste a London (salmon)
19 Polski Urz'd PocztowyGdatsk 3 — Bureau de Poste a Malmö (salmon)
20 Poiski Urz'd (3(jazjsk 3 - Bureau de Poste a Oslo — Noivege (white)
21 Poiski UrzId Pocnowy Gdatlsk 3 -. Bureau do Poste a Copenhague (white)
22 Polski Urz"d Pocztowy Nr, 3 w Gdaiisku Bureau do Poste a Copaihague (yellow)
23 Polski Urz"d Pocztowy Gdajtisk 3— Bureau do Poste a Helsingfors (white)


Probably more labels with other destinations exist, but we have not been able to find them.



Danzig Report Vol. 1 - Nr. 111 - April - May - June - 2001, Page 26.
Hits: 1107

Added: 29/07/2015
Copyright: 2023 Danzig.org