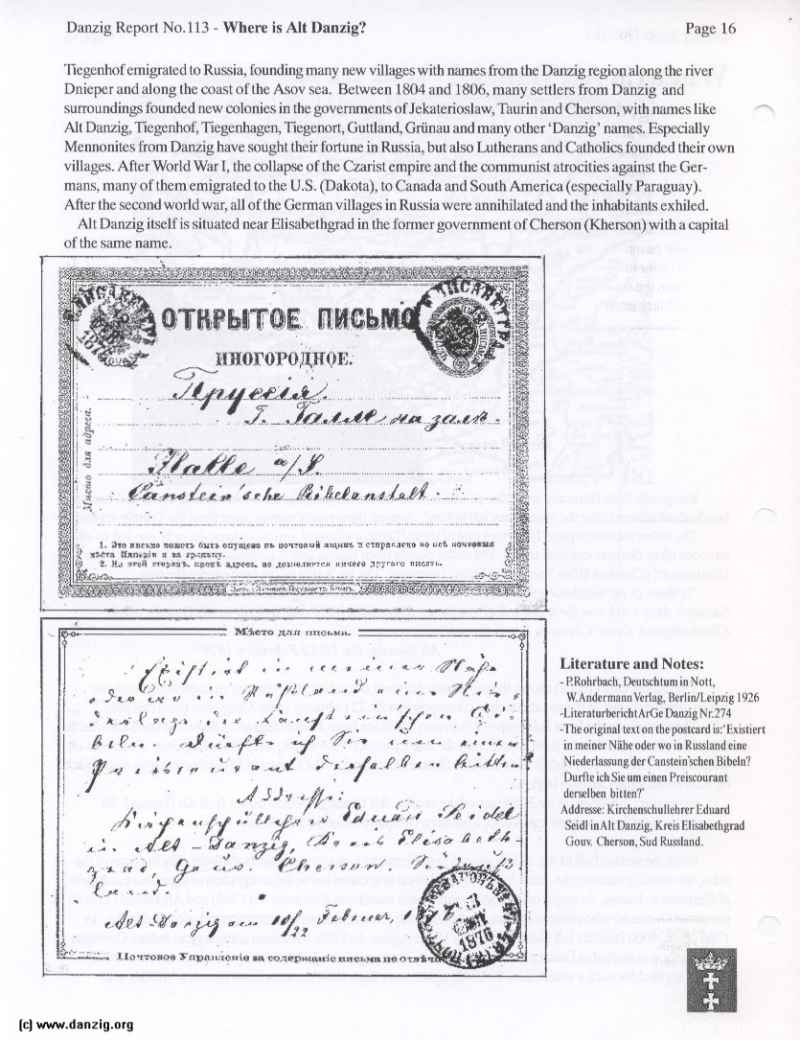 Tiegenhof emigrated to Russia, founding many new vii lages with names from the Danzig region along the river Dniepcr and along the coast of the Asov sea. Between 1804 and 1806, many settlers from Danzig and surroundings foundcd new colonies in the governments ofJekaterioslaw, Taurin and Cherson, with names like Alt Danzig, Tiegenhof, Tiegenhagen, Tiegenort, Guttland. Grünau and many other 'Danzig' names. Especially Mennonites from Danzig have sought their firtune in Russia, but also Lutherans and Catholics funded their own villages. After World War L, the a)llapse of the Czarist empire and the communist atrocities against the Germans, many of them emigrated to the U.S. (Dakota). to Canada and South America (especially Paraguay). After the second world war, all of the German villages in Russia were annihilated and the inhabitants exhiled.

Alt Danzig itself is situated near Elisabethgrad in the former government of Cherson (Khersm) with a capital of the same name.



Danzig Report Vol. 1 - Nr. 113 - October - November - December - 2001, Page 18.
Hits: 1359

Added: 30/07/2015
Copyright: 2023 Danzig.org