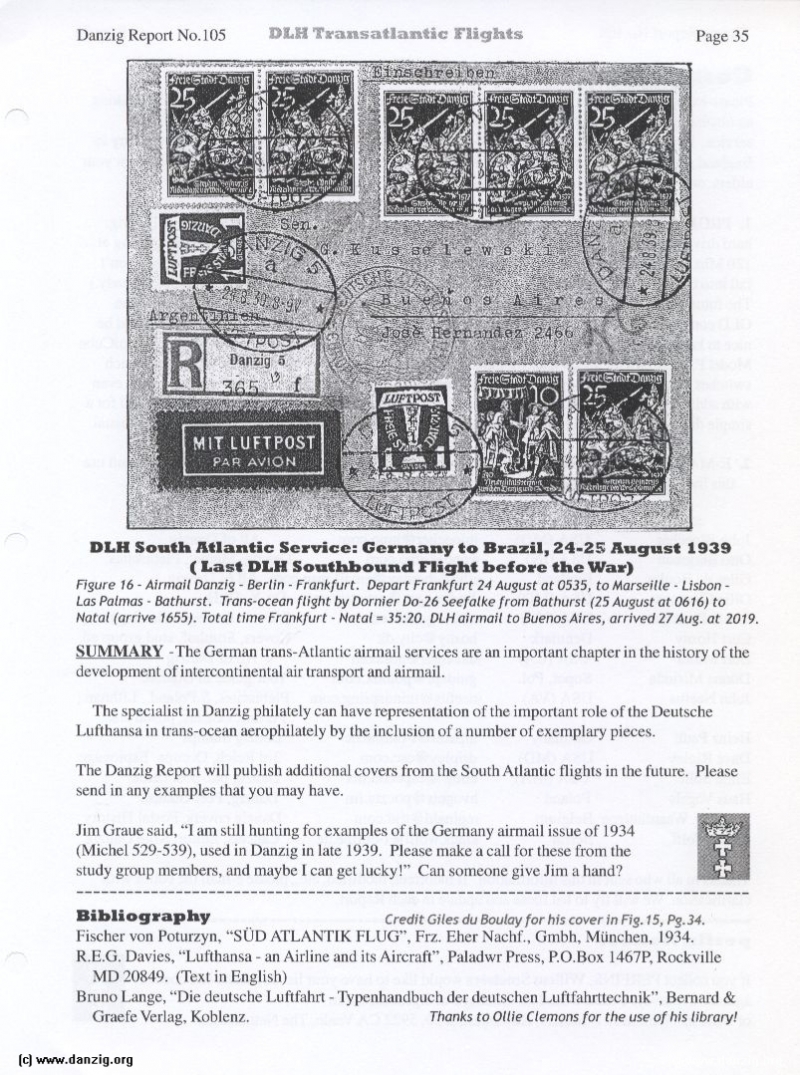 DLH South Atlantic Service: Germany to Brazil, 24-25 August 1939 (Last DLH Southbound flight before the War)
Figure 16- Airmail Danzig - Berlin - Frankfurt. Depart Frankfurt 24 August at 0535, to Morsetile - Lisbon - Las Polmas - Bathurst. Transocean flight b'g Dornier Do-26 Seefaike from Bathursr (25 August at 0616) to Natal (arrIve 1655). Total time Frankfurt - Natal 35:20. Dlii airmail to Buenos Aires, arrived 27Aug. at 2019.

SUMMARY -The German trans-Atlantic airmail services are an important chaPter in the history of the development of intercontinental air transport and airmail.

The specialist in Danzig philately can have represenlation of the important role of (he [)eutsche Lufthansa in rans-xean aerophilately by the inclusion of a number of cxcmphuy pieces.

The Danzig Report will publish additional covers from the South Atlantic flights in the future. Please send in any examples that you may have.

Jim Grauc said, "I am still hunting for examples of the Germany airmail issue of 1934 (Michel 529-539), used in Danzig in late 1939. Please make a call for these from the H study group members, and maybe I can get lucky 1" Can someone give Jim a hand?



Danzig Report Vol. 1 - Nr. 106 - January - February - March - 2000, Page 35.
Hits: 1148

Added: 27/07/2015
Copyright: 2023 Danzig.org