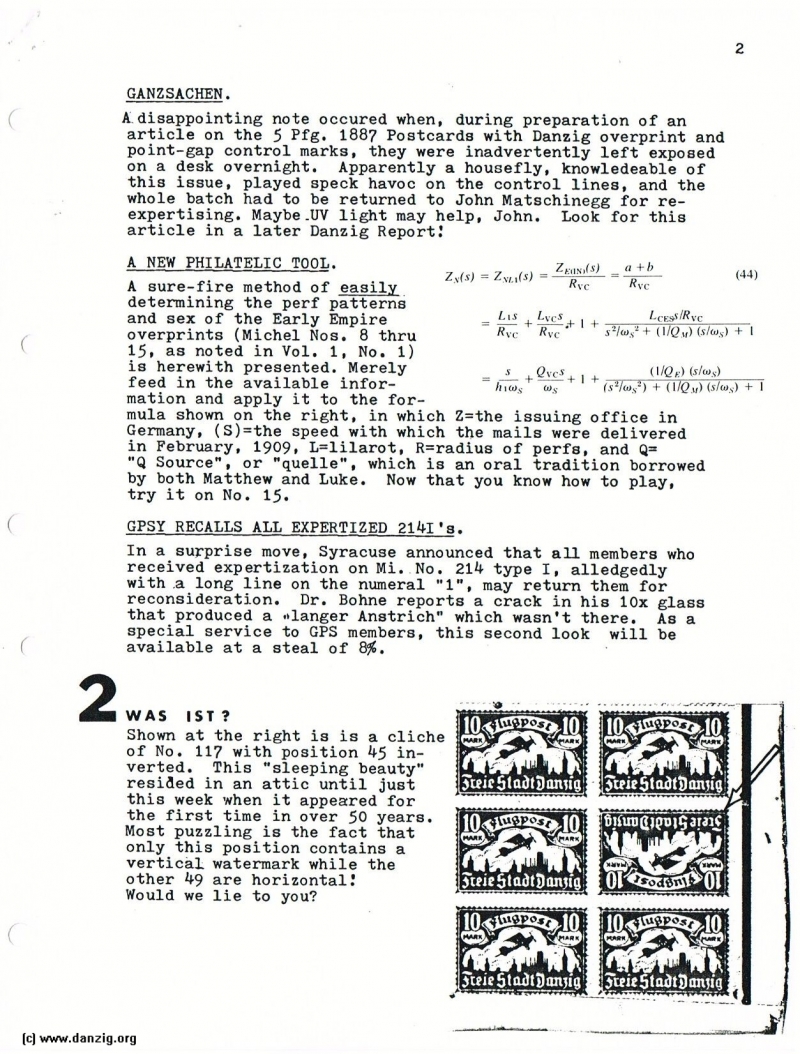 DANZIG REPORT STUDY and RESEARCH GROUP

GANZSACHEN
A disappointing note occured when, during preparation of an article on the 5 Pfg. 1887 Postcards with Danzig overprint and point-gap control marks, they were inadvertently left exposed on a desk overnight. Apparently a housefly, knowledeable of this issue, played speck havoc on the control lines, and the whole batch had to be returned to John Matschinegg for reexpertising. Maybe.UV light may help, John. Look for this article in a later Danzig Report:

A NEW PHILATELIC TOOL.
A sure-fire method of easily  determining the perf patterns and sex of the Early Empir overprints (Michel Nos. 8 thru 15, as noted in Vol. 1, No. 1) is herewith presented. Merely feed in the available information and apply it to the formula shown on the right, in which Z=the issuing office in Germany, (S)=the speed with which the mails were delivered in February, 1909, L = lilarot, R = radius of perfs, and Q "Q Source", or "quelle", which is an oral tradition borrowed by both Matthew and Luke. Now that you know how to play, try it on No. 15.

GPSY RECALLS ALL EXPERTIZED 2141's.
In a surprise move, Syracuse announced that all members who received expertization on Mi. No. 214 type I, alledgedly with a long line on the numeral "1", may return them for reconsideration. Dr. Bohne reports a crack in his 10 x glass that produced a "langer Anstrich" which wasn't there. As a special service to GPS members, this second look will be available at a steal of 8%.

2 WAS IST ?
Shown at the right is is a cliche of No. 117 with position 45 inverted. This "sleeping beauty" resided in an attic until just this week when it appeared for the first time in over 50 years. Most puzzling is the fact that only this position contains a vertical watermark while the other 49 are horizontal Would we lie to you?



Danzig Report  Nr. 18 – April  1978, Page 2.
Hits: 1362

Added: 06/06/2015
Copyright: 2023 Danzig.org