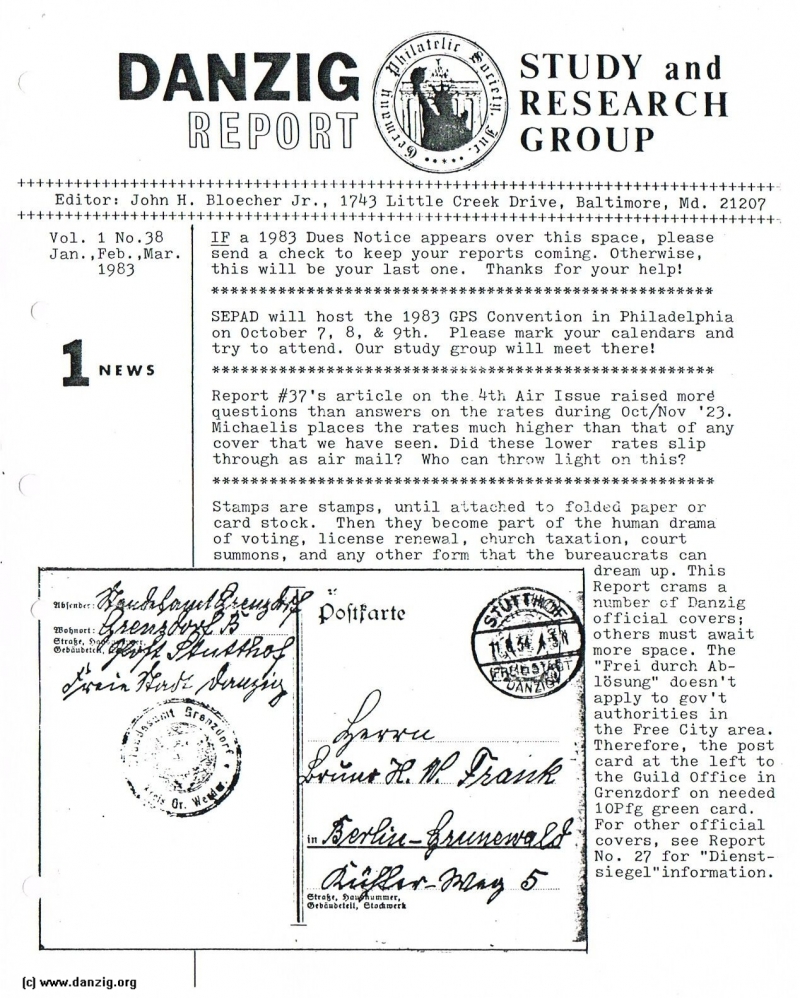 DANZIG REPORT Nr. 38

STUDY and RESEARCH GROUP

Editor: John H. Bloecher Jr., 1743 Little Creek Drive, Baltimore, Md. 21207

Vol. 1 No. 38 Jan., Feb., Mar. 1983

IF a 1983 Dues Notice appears over this space,  send a check to keep your reports coming. Otherwise, 1983 this will be your last one. Thanks for your help !

SEPAD will host the 1983 GPS Convention in Philadelphia on October 7, 8, & 9th. Please mark your calendars and try to attend. Our study group will meet there!

Report #37's article on the 4th Air Issue raised more questions than answers on the rates during Oct/Nov '23. Michaelis places the rates much higher than that of any cover that we have seen. Did these lower rates slip through as air mail? Who can throw light on this?

Stamps are stamps, until attached to folded paper or card stock. Then they become part of the human drama of voting, license renewal, church taxation, court summons, and any other form that the bureaucrats can dream up. This Report crams a number of Danzig official covers; others must await more space. The "Frei durch Ablösung" doesn't apply to gov't authorities in the Free City area. Therefore, the post the Guild Office in Grenzdorf on needed, 10 Pfg green card. For other official covers, see Report No 27 for "Dienstsiegel"information.



Danzig Report - Nr. 38 - January - February - March - 1983, Page 1.
Hits: 1370

Added: 12/06/2015
Copyright: 2023 Danzig.org