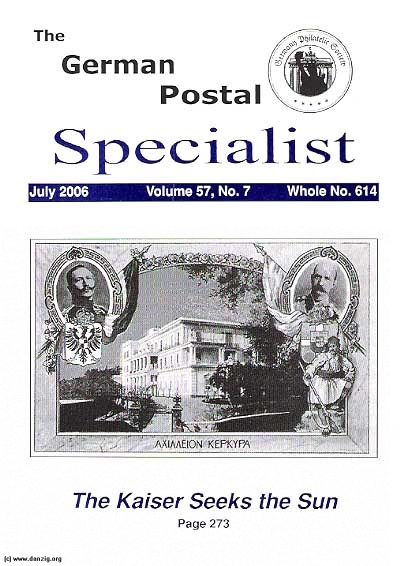 The German Postal Specialist 2006.

- Articles;
The Kaiser Seeks the Sun, in Greece, page 273.
by Alfred F. Kugel.
Early Preprinted Prussian Postal Receipts, page 279.
by Fritz Wald.
Cover from the German Whaling Fleet 1939, page 288.
by Benjamin R. Beede.

- News;
Germany on Exhibit, page 293.
Gold and SilverMembers for 2006, page 302.
G.P.S. Awards Banqurt at Chicagopex, page 303.
New Forgery Manual CD-ROM, page 303.

- Columns;
Book Review; Atlas and Lexicon zum Ersten Weltkrieg, Volume II, page 289.
Book Review; Michel Deutschland Spezial Katalog 2006, page 289.
Collector Question, page 291.
Editor's Notes, page 271.
Letters to the Editor, page 267.
Mit Deutscher Post: Express, page 296.
New Issues, page 298.

- Departments;
Adlets, page 308.
Membership Report, page 307.
Hits: 1807

Added: 30/10/2008
Copyright: 2023 Danzig.org