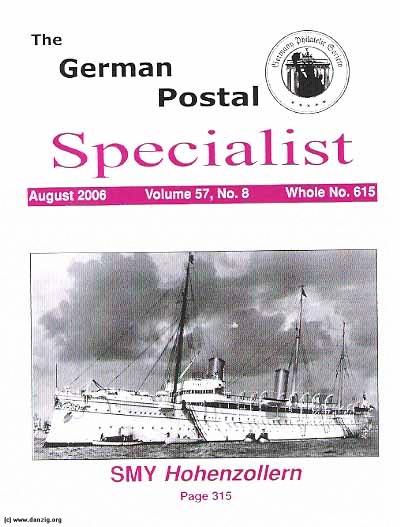 The German Postal Specialist 2006.

- Articles;
SMY Holenzollern, page 315.
by John R. Norris.
Baltischport Cancels, page 321.
by George R. Lenz.
Precursors to the Wehrmacht 1 and Wehrmacht 2 Issues, page 327.
by Benjamin R. Beede.
Heydrich Block Census Update, page 335.
by Phil Rhoade.

- News;
8th American/German Salon; Tentative Schedule, page 345.

- Columns;
Collector Question; Constantinople Postmark (Response), page 332.
From the President, page 343.
Letters to the Editor, page 311.
Mit Deutscher Post, Express; Charges Paid by Recipient, page 338.
New Issues, page 340.

- Departments;
Adlets, page 352.
Membership Report, page 350.
Hits: 2078

Added: 30/10/2008
Copyright: 2023 Danzig.org