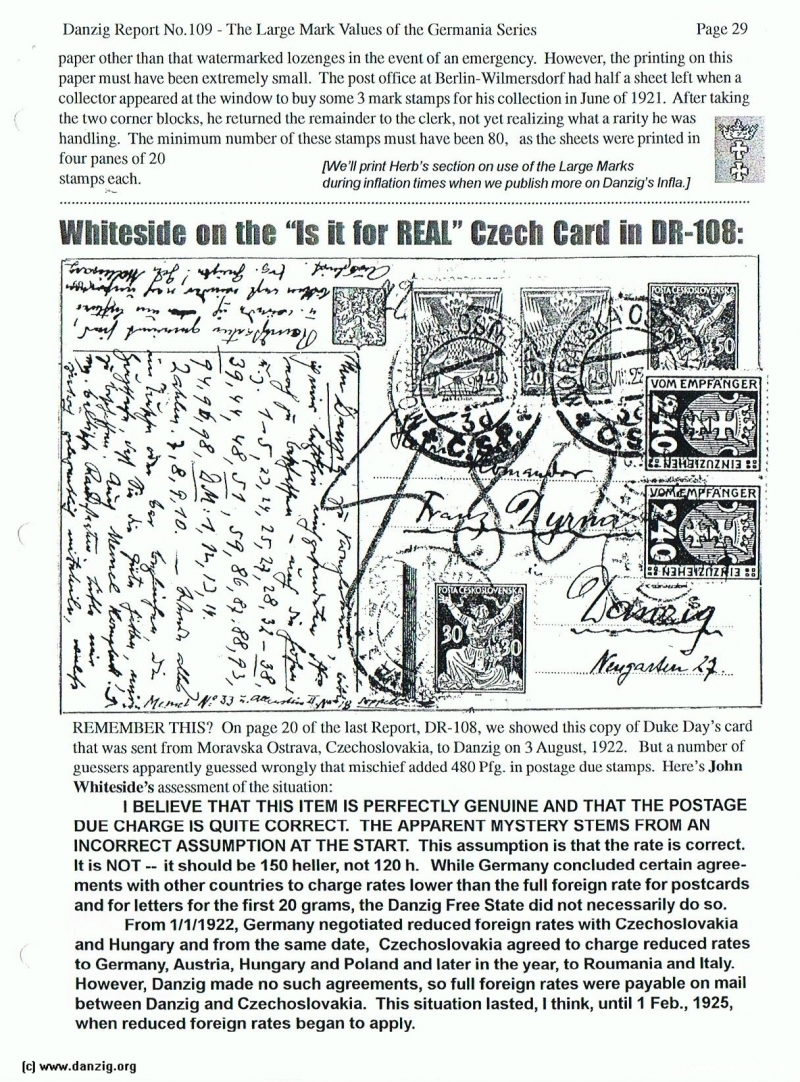 paper other than that watermarked lozenges in the event of an emergency. However, the printing on this paper must have been extremely small. The post office at Berlin-Wilmersdorf had half a sheet left when a collector appeared at the window to buy some 3 mark stamps for his collection in June of 1921. After taking the two corner blocks, he returned the remainder to the clerk, not yet realizing what a rarity he was handling. The minimum number of these stamps must have been 80, as the sheets were printed in four panes of 20 stamps each.


Whiteside on the "Is It for REAL" Czech Card in DR-108:

REMEMBER THIS? On page 20 of the last Report, DR-108, we showed this copy of I)uke Day's card that wa.s sent from Moravska Ostrava, Czechoslovakia, to Danzig on 3 August, 1922. But a number of guessers apparently guessed wrongly that mischief added 480 Pfg. in postage due stamps. Here's John Whiteside's assessment of the situation:

I BELIEVE THAT THIS ITEM IS PERFECTLY GENUINE AND THAT THE POSTAGE DUE CHARGE IS QUITE CORRECT. THE APPARENT MYSTERY STEMS FROM AN INCORRECT ASSUMPTION AT THE START. This assumption is that the rate is correct. It is NOT — it should be 150 heller, not 120 h. While Germany concluded certain agreem ents with other countries to charge rates lower than the full foreign rate for postcards and for letters for the first 20 grams, the Danzig Free State did not necessarily do so.

From 1/1/1922, Germany negotiated reduced foreign rates with Czechoslovakia and Hungary and from the same date, Czechoslovakia agreed to charge reduced rates to Germany, Austria, Hungary and Poland and later in the year, to Roumania and Italy. However, Danzig made no such agreements, so full foreign rates were payable on mail between Danzig and Czechoslovakia. This situation lasted, I think, until 1 Feb., 1925, when reduced foreign rates began to apply.



Danzig Report Vol. 1 - Nr. 109 - October - November - December - 2000, Page 35.
Hits: 1223

Added: 29/07/2015
Copyright: 2023 Danzig.org