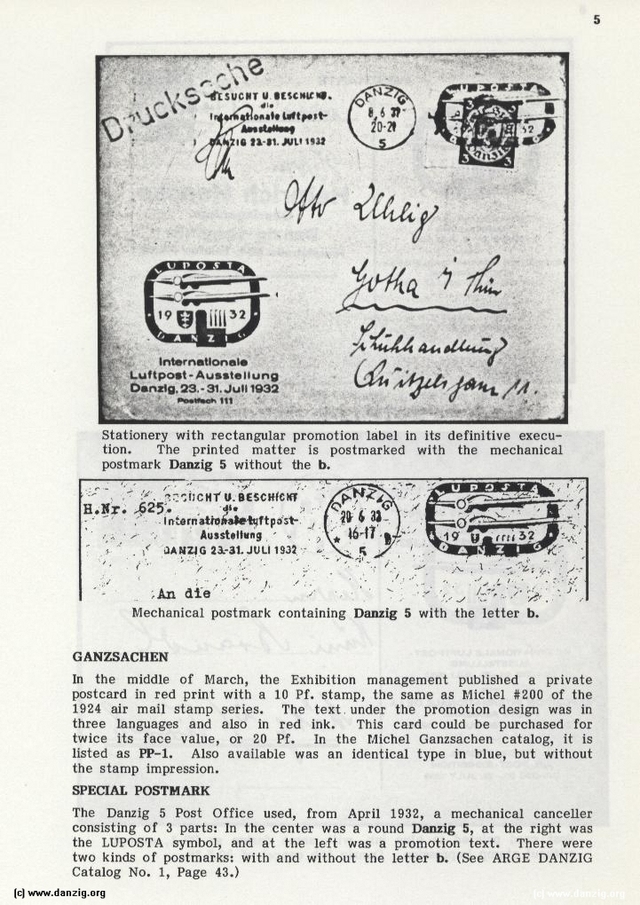 Free City Danzig, Promotion of the Exhibit.
Ganzsachen and Special Postmark.

*- Stationery with rectangular promotion label in its definitive execution. The printed matter ist Postmarked with the mechanical postmark 'Danzig 5' without the b.

*- Mechanical postmark containing 'Danzig 5' with the letter 'b'.

Ganzsachen.
In the middle of March, the Exhibition management published a private postcard in red print with a 10 Pf. stamp, the same as Michel # 200 of the 1924 air mail stamp series. The text unter the promotion design was in three languages and also in red ink. This card could be purchased for twice its face value, or 20 Pf. In the Michel Ganzsachen Catalog, it is listed as 'PP-1'. Also available was an identical type in blue, but without the stamp impression.

Sprcial Postmark.
The Danzig 5 Post Office used, from April 1932, a mechanical canceller consisting of 3 parts: In the center was a round 'Danzig 5', at the right was the Luposta symbol, and at the left was a promotion text. There were two kinds of postmarks; with an without the letter 'b'. (See Arge Danzig catalog No. 1, Page 43.).
Hits: 2231

Added: 20/09/2009
Copyright: 2023 Danzig.org