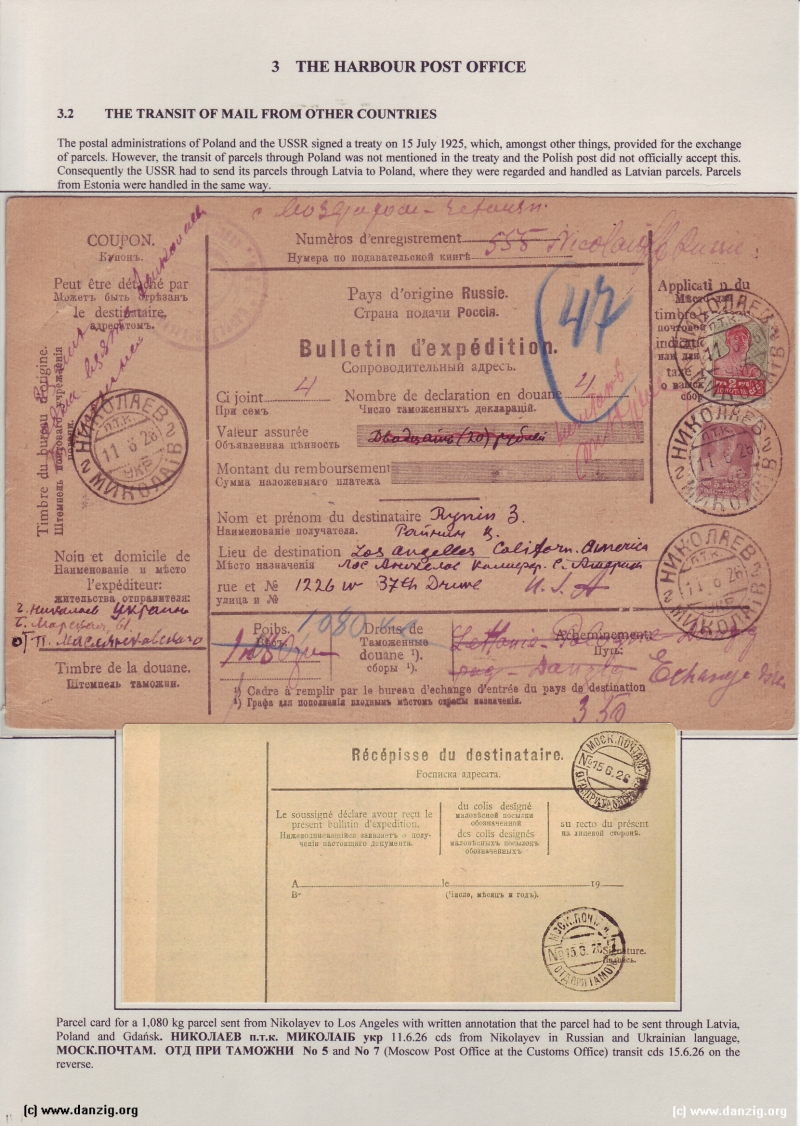 >> THE POLISH POST IN THE FREE CITY OF GDAŃSK 1920 - 1939
>> POCZTA POLSKA W WOLNYM MIEŚCIE GDAŃSKU 1920 - 1939

>> 3 THE HARBOUR POST OFFICE
>> 3.2 THE TRANSIT OF MAIL FROM OTHER COUNTRIES

The portal administrations of Poland and the USSR signed a treaty on 15 July 1925, which, amongst other things, provided for the exchange of parcels. However, the transit of parcels through Poland was not mentioned in the treaty and the Polish post did not officially accept this. Consequently the USSR had to send its parcels through Latvia to Poland, where they were regarded and handled as Latvian parcels. Parcels from Estonia were handled in the same way.

Parcel card for a 1,080 kg parcel sent from Nikolayev to Los Angeles with written annotation that the parcel had to be sent through Latvia, Poland and Gdańsk. HNKOJIAEB II.T.K MNKOJIAIB ykp 11.6.26 cds from Nikolayev in Russian and Ukrainian language, MOCK.IIOYTAM. OTA IIPH TAMOKHN No 5 and No 7 (Moscow Post Office at the Customs Office) transit cds 15.6.26 on the reverse.

The Polish Post in the Free City of Gdańsk 1920 - 1939, Page 19.
Hits: 1075

Added: 21/12/2016
Copyright: 2023 Danzig.org