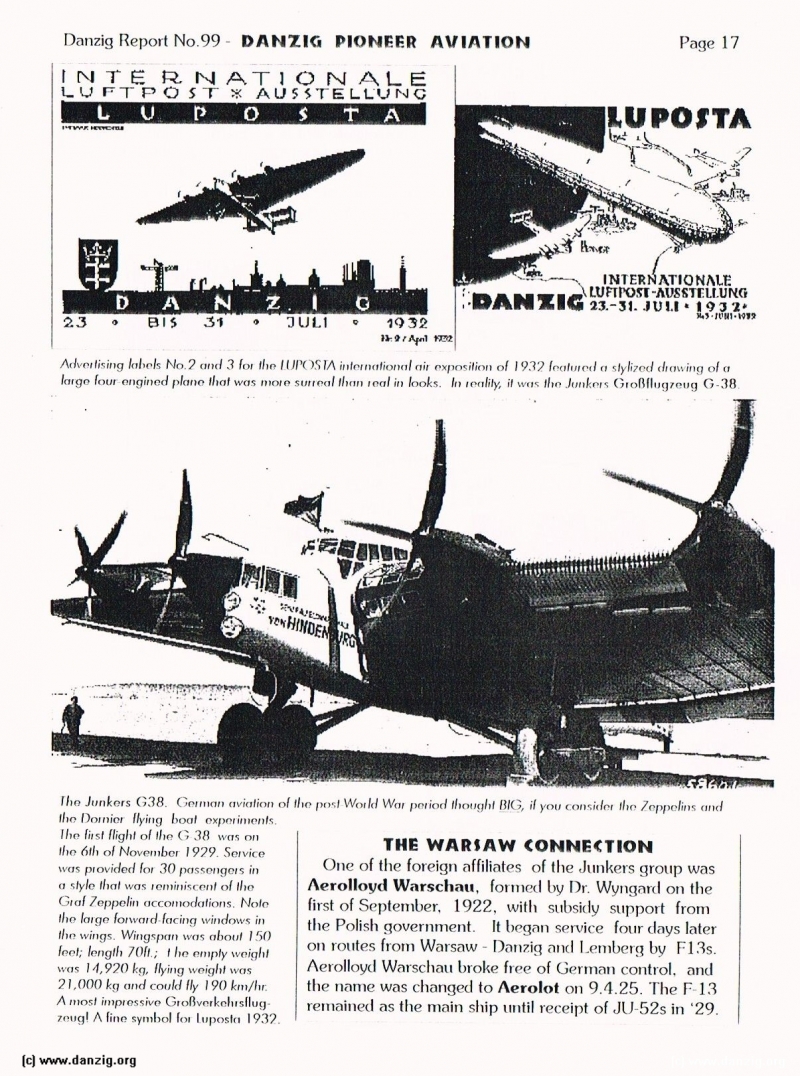 DANZIG PIONEER AVIATION
Advertising labels No.2 and 3 for the LUPOSTA international air exposition of 1932 featured a stylized drawing of a large fourengined plane that was more surreal than real in looks. In reality, it was the Junkers Großflugzeug G-38.
The Junkers G38. German aviation of the post-World Was period thought BIG, if you consider the Zeppelins and the Domier flying boat experintents. The first flight of the G-38 was on the 6th of November 1929. Service was provided for 30 passengers in a style that was reminiscent of the Graf Zeppelin accomodations. Note the large forward-facing windows in the wings. Wingspan was about 150 feet; length 70ft.; The empty weight was 14,920 kg, flying weight was 21,000 kg and could fly 190 km/hr A most impressive Gronverkehtsflugzeug! A fine symbol for Luposto 1932.
THE WARSAW CONNECTION
One of the foreign affiliates of the Junkers group was Aerolloyd Warschau, formed by Dr. Wyngard on the first of September, 1922, with subsidy support from the Polish government. It began service four days later on routes from Warsaw - Danzig and Lemberg by F 13s. Aerolloyd Warschau broke free of German control, and the name was changed to Aerolot on 9.4.25. The F-13 remained as the main ship until receipt of JU-52s in '29.
Danzig Report  Nr. 99 - April - May - June - 1998, Page 17.
Hits: 1396

Added: 06/10/2015
Copyright: 2023 Danzig.org